Shirley Reynolds Brown
June 15, 1927 – December 31, 2020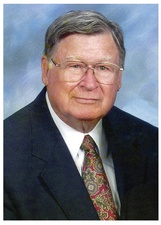 Shirley Reynolds Brown died at 93 due to living the dream.  He was in a four-wheeler accident just before Thanksgiving and succumbed to his injuries on New Year's Eve, December 31, 2020.  He joins his wife, Carolyn Coats Brown, of over 60 years in heaven.  They will spend eternity arguing over him driving his four-wheeler.
A private service for the immediate family will be held in the near future.
He was born on June 15, 1927 in Ozark, Alabama.  After high school, where he graduated Valedictorian, he joined the Navy Seabees and was stationed in Guam.  When he returned, he started working for Trailways as a bus driver and retired after 42 years.  He farmed part time until he retired from Trailways, to spend more time with his grandsons and then worked full time on the farm until 2015.  Spending time looking at the cows, pecan trees, and the farm in general brought him great joy.
He enjoyed being a part of Kiwanis, American Legion, Cattlemen's Association, and Methodist Men.  He was a member of the First United Methodist Church of Cairo, GA.
Shirley was from Brown's Crossroad, Alabama and was one of Ollie Newton Brown and Lev Brown's nine children.  His parents and siblings preceded him in death.
He is survived by sons, Lumis Coats Brown (Helen) of Cairo and Reynolds Joseph Brown of Atlanta; and grandsons, Lauren Coats Brown (Brooke) of Atlanta, Perry Noble Brown of Atlanta, and Julian Lumis Brown of Cairo.  He thought the world of his many nieces and nephews.
In lieu of flowers, please make a memorial gift to Cairo First United Methodist Church/Wheelchair Ramp Ministries, 318 South Broad Street, Cairo, GA 39828.  This group built the ramp in front of Shirley's home and made life easier for him after losing his leg in 2015.
For those who desire, condolences may be offered to the family by
clicking here
.