Zelma Irene Palmer Williams
December 26, 1923 – March 6, 2021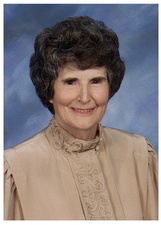 It was a cool Georgia day, December 26, 1923, when Ruby Crosby-Palmer was alone, bringing Zelma Irene Palmer into this world.  Zelma grew up in Pelham, GA, with education at the Grady County Schools.  As a young girl Zelma played piano by ear and made her first dress when she was 13 without a pattern.  Following high school, Zelma worked in retail at the Air force Base Commissary in Macon, GA.
Zelma was 16 (1940) and met Donnie Williams, 21, at a square dance.  Love at first sight and they were married on December 22, 1943, and moved to Tampa, FL, where Zelma worked in retail at a pharmacy.  Zelma moved back to the Pelham area in 1945 when Zelma gave birth to daughter Sharon in 1946 and began as a mother and homemaker.  1952-1958, Zelma worked as a cosmetician at Walgreens.  1957, Zelma gave birth to son Don and continued as a mother and homemaker.  In 1966, Zelma worked at Florida State University in accounting.   From 1971-1981, Zelma returned to Walgreens.  In 1981-1983, Donnie and Zelma worked building their home in Pelham, GA.  While in Georgia she enjoyed her yard, gardening, and singing in the Macedonia Baptist Church Choir.  Zelma spent the year 2020 in Thomasville, GA.
Daughter, Sharon passed away in 1991, husband, Donnie passed away in 2001 and grandchild, Garrett Isaac Williams passed away in 1986.  Zelma loved her family and is survived by: her son, Don and wife, Lynn Williams; son-in-law, David Wagemaker: 6 living grandchildren, Heath Shuford, Jacob Williams, Mason Williams, Amanda Williams-Flathers, Chad Williams, and Rebekah Williams: and 13 great grand-children.
Zelma was independent, smart and loved the Lord.
A memorial service will be held at Macedonia Baptist Church at 2:00 p.m., Saturday, March 13, 2021.  Rev. Marvin Snipes will officiate.  Services will conclude at the church.  Interment will be in Mizpah Primitive Baptist Church Cemetery, Pelham, GA.
In lieu of flowers, donations in memory of Zelma would be appreciated to: Macedonia Baptist Church, 131 Mill Pond Road, Pelham, GA 31779.
For those who desire, condolences may be offered to the family by
clicking here
.