Maurice Merritt Creek
November 17, 1922 – November 18, 2020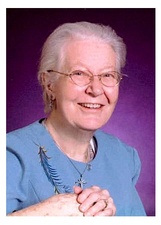 Mrs. Maurice Merritt Creek, age 98, of Villa Rica, GA, passed away Wednesday, November 18, 2020. She was born November 17, 1922, in Cairo, GA, the daughter of the late Mr. Kedar Merritt and Mrs. Ethel Chason Merritt. Mrs. Creek was a graduate of Cairo High School, Class of 1940. She attended Macon Hospital School of Nursing from 1941-1944 and started her first nursing job in Thomasville, Georgia. She married Harry James Creek in 1945, becoming a military wife. Together they moved to Pennsylvania and started their family. They lived in many places being a military family and she was a homemaker for several years. Mrs. Creek loved her church family and was a member of the First Baptist Church of Villa Rica. She was a very generous woman, always putting others first.
In addition to her parents, Mrs. Creek was preceded in death by her husband, Harry James Creek; her son, Jeff Creek; and her brother, Howard Merritt.
She is survived by her son and daughter-in-law, James "Jim" Howard and Sheryl Creek of Columbus, GA; her daughter and son-in-law, Rebecca and Benjamin Slay of Villa Rica; her daughter-in-law, Dee Creek of Altoona, PA; her grandchildren, Courtney and Peter Blenkinsop of Maryland, Carson and Tiffany Creek of Florida, Ben and Angela Slay of Douglasville, GA, Brian and Cathy Slay of Villa Rica, Ronnie McGrath of Altoona, PA and Shelby Bickel of Altoona, PA great-grandchildren, Evan Blenkinsop, Wesley Blenkinsop, Kai Blenkinsop, Olivia Creek, Ben and Amanda Slay, Terry and Katie Thomas, Autumn Slay, Megan and Justin Bailey and Jacob Slay; her great-great grandchildren, Harper Slay, Makenzie Thomas, Skylar Thomas, Brayden Lauderdale and Briella Bailey; and her niece, Carol Merritt of Cartersville, GA.
The family will receive friends at Jones-Wynn Funeral Home, Villa Rica Saturday, November 21, 2020 from 12:00 p.m. until 2:00 p.m. Funeral Services will be conducted Saturday, November 21, 2020 from the Chapel of Jones-Wynn Funeral Home, Villa Rica with Rev. Jeff Powell officiating. Private Interment will take place in the Cairo Cemetery in Cairo, GA.
Messages of condolence may be sent to the family at www.jones-wynn.com. Jones-Wynn Funeral Home of Villa Rica is in charge of the arrangements. Phone 770-459-3694
For those who desire, condolences may be offered to the family by
clicking here
.