Mary Stewart Walker
February 14, 1949 – August 14, 2022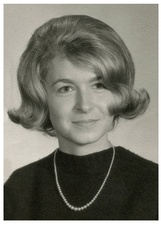 Mary Stewart Walker, 73, of Cairo, GA, passed away at the Presbyterian Home and Retirement Community in Quitman, GA, on Sunday, August 14, 2022.  Interment will be in Bold Springs United Methodist Church Cemetery.  The family will have a private memorial service.
Ms. Walker was born on February 14, 1949, in Thomasville, GA, to the late John Turner Stewart, Sr. and Margaret Rackley Stewart.  She received her bachelor's degree from Valdosta State University.  She retired from the Roddenbery Memorial Library in Cairo.  Mary was a loving mother and homemaker.
Survivors include:  her sons, Matt Walker (Carissa) of Cairo, GA, Thomas Walker (Leigh) of Valdosta, GA; grandchildren, Lana, Lilly and Finley Walker, all of Cairo, GA, Mackey, Jewel and Wynn Walker, all of Valdosta, GA; and a brother, John Turner Stewart, Jr. of Florida.
She was preceded in death by her parents and brothers, Terry Stewart and Jerry Stewart.
Memorials may be made in Ms. Walker's memory to: the Roddenbery Memorial Library, 320 North Broad Street, Cairo, GA 39828; or the First Baptist Church, P. O. Box 1538, Cairo, GA 39828.
For those who desire, condolences may be offered to the family by
clicking here
.