John E. Wilkinson
April 22, 1934 – June 28, 2021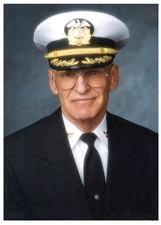 John E. Wilkinson, 87, of Cairo, GA, passed away at his home on Monday, June 28, 2021. Memorial services are at 11:00 a.m., Saturday, July 10, 2021, at Our Father's House, Cairo, GA.  Rev. Ricky Pearson will officiate.  Military honors will be presented.  Services will conclude at the church.
Mr. Wilkinson was born on April 22, 1934, in Baker, FL, to the late Elbert Wilkinson and Lois Hobbs Wilkinson.  On April 14, 1984, he married Myra Stanley Wilkinson, who survives.  After 52 years at sea, John retired from the United States Merchant Marine as a Chief Marine Engineer.  He served his country in the U.S. Navy, U.S. Army and Naval Reserves.  He was a decorated veteran and earned the Bronze Star for his service in Vietnam.  He was a Christian and a member of Our Father's House in Cairo, GA.
Survivors include: his wife of 37 years, Myra Wilkinson of Cairo, GA; his children, Michael D. Wilkinson (Carol) of Owasso, MI; two estranged daughters, 8 grandchildren, and 11 great-grandchildren.
Memorials may be made in Mr. Wilkinson's memory to: The Voice of the Martyrs, 1815 SE Bison Road, Bartlesville, OK  74006.  www.persecution.com
The family will receive friends at the church immediately following the memorial service.
For those who desire, condolences may be offered to the family by
clicking here
.