Howard Crawford Chastain
September 6, 1945 – April 3, 2021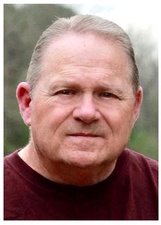 Howard Crawford Chastain, 75, of Remlap, AL (formerly Cairo, GA) passed away at his home and welcomed to his new healed body on Saturday, April 3, 2021.  The family will receive friends at Deerfoot Memorial Funeral Home from 5:00PM to 7:30PM Thursday, April 8, 2021.  The Funeral Service will be Friday, April 9, 2021 at 11:00AM in the Chapel of Deerfoot Memorial Funeral Home, Trussville, AL.  The Graveside will follow at Oak Hill Cemetery in Oneonta, AL.
He was born on September 6, 1945, Cairo, GA to his late father and mother, Mack Crawford Chastain and Madge LeGette Chastain.  He also shared the same birthday with his father.  Howard was a character and a one-of-a-kind person.  He loved Jesus.  He knew the Bible extensively.  He never met a stranger and could talk to anyone about any subject.  He gave his opinion freely (whether you wanted to hear it or not).  He loved his family and extended family fiercely.  He graduated from Cairo High School, Cairo, GA, and was proud to be part of the Syrupmakers football team, playing along beside many greats such as Bill Stanfield, Frank Richter and others.  As we jokingly said many times, he attended most colleges in the South.  He loved his Georgia Bulldogs, win or lose.  Although he preferred the win!  He served his country as a US Marine during the Vietnam War.  On November 25,1981, he married his wife of 39-1/2 years, Vicky Elkins Chastain.  Howard retired as a Locomotive Engineer from Norfolk Southern Railroad after 30+ years of service.  He loved driving his tractor and planting a garden on the land they moved to 10 years ago.
He leaves behind to mourn his loss: wife, Vicky Chastain; son, James Howard Chastain (Sheri), Warrior, AL; daughter, Heather D. Chastain Minniece (Thomas), Fultondale, AL; daughter, Victoria Chastain, Moody, AL and soon to be son-in-law, James Matthew Hobby, Moody, AL. Grandchildren who were the greatest blessing and dearest to his heart: Kennedy Elizabeth Chastain, Hayden, AL; Ava Rose Chastain, Moody, AL; Thomas James Minniece, Fultondale, AL; Alexander Chastain Minniece, Fultondale, AL; and greatly anticipated arrival of Lilah Grace Chastain, due in 2 weeks. Step grandchildren: Magen Hollingsworth, Warrior, AL; Haley Hollingsworth, Warrior, AL. Step great grandchildren: Jaxson Layne Houser and Emma Weslynn Houser, Warrior, AL; a sister, Madge Chastain Hester (Dennis), Albany, GA and niece, Kennedy Hester, Los Angeles, CA, and numerous other relatives in Cairo and Thomasville, GA. Best friends: Joe and Ann Knight, Cairo, GA; Alan and Diane Kain, Edgewood, WA, Ray Norton, Louisiana. Best friends and "adopted" family: Tim and Sandie Harris, Timothy and Nicole Harris, Warrior, AL and his faithful 4-legged companions Hattie Mae, Hamish Gunn and Maggie.
In addition to his parents, he was preceded in death by his brother, James Stewart Chastain; father-in-law and mother-in-law, Hubert and Dot Elkins all of Cairo, GA.
The family would like to extend our sincerest appreciation to his primary hospice nurse, Tabitha Forster, for her dedicated care. He did not want to see anyone other than Tabitha.
DEERFOOT MEMORIAL FUNERAL HOME, 5360 Deerfoot Parkway, Trussville, AL 35173, is in charge of all arrangements.  Please call Telephone, (205) 655-3444 if you have any questions.  Website, https://www.deerfootmemorialfuneralhome.com/
For those who desire, condolences may be offered to the family by
clicking here
.