George C. Trulock, Jr.
July 28, 1952 – June 13, 2022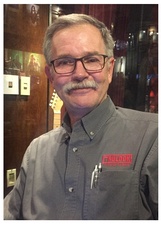 Funeral services for George C. Trulock, Jr., 69, of Whigham, GA, are at 2:00 p.m., Thursday, June 16, 2022, at Trinity Primitive Baptist Church, Whigham, GA.  Elder Jon Mizell will officiate. Interment will be in Woodlawn Cemetery, Whigham, GA.  Mr. Trulock passed away at Archbold Memorial Hospital, Thomasville, GA, on Monday, June 13, 2022.
Active pallbearers will be Jason Pyles, Jacob Pyles, Rich Lane, Lafe Perkins, Rett Groeneveld, Luke Faulkner, and Bobby Perkins, Jr.
Honorary pallbearers are Jeff Brinson, Emmett Brock, Trulock Tool Company Employees—Staci Stallings, Jr. (Elsie) Leeks, Jamie Trotman, Alexia, Nickie, and Alan Cash, and Pam Snipes, Whigham City Council—Jimmy Laing, Joel Singletary, Trey Gainous, Bobby Porter, Jim Sellers, City Clerk Rachel Rogers, Utilities Director Josh Ausburn, Police Chief Tony Black, Hud's Breakfast Club—Johnny Robinson, Danny Hurst, Frank Harrell, Terry Parker, Ray Bishop, Earl Stuckey, Randy Fowler, Cecil Gibbs, Tony Black, Sammy Perkins, Julian Knight, Don Lovins, and Robin Antill.
Mr. Trulock was born on July 28, 1952, in Cairo, GA, to the late George C. Trulock, Sr. and Dee Edwards Trulock Winstanley. On November 28, 1970, he married Jane Perkins Trulock, who survives. George was a machinist by trade who owned and operated Trulock Tool Company in Whigham, GA. He was a member of Whigham Baptist Church and a member of the Whigham Masonic Lodge. He was a former member and president of the Whigham Community Club.
Raised in Whigham, Georgia, George Trulock, Jr. was a true patriot, proud Southerner, and a pillar of the community he loved. George worked tirelessly his entire adult life to make Whigham the very best it could be. At the age of 22, he was elected to the Whigham City Council and at the time was the youngest member to ever serve as a councilman.  He served on the council for a total of 30 years as well as holding the office of Whigham Mayor for over 14 years, which he held at the time of his death. George served as a police officer for the Cairo Police Department from 1972 until 1982.  An avid firearms enthusiast and businessman, Mr. Trulock was a talented gunsmith; and during his time as police officer, he began building his business on a part time basis. In 1982, he went into the firearms business full time and founded Trulock Firearms, which later became Trulock Tool Company.  George grew his company from a one-man-show to a business that currently employs 30 people. George was the developer of the Tru-Choke design, which has been replicated by many firearm companies throughout the years. Trulock Tool Company is now known for producing quality, custom-designed choke tubes and gun parts, shipping chokes worldwide.  Trulock Chokes will remain a family-owned and operated business. Trulock believed it was his duty to help promote and protect the industry he so loved. He was an NRA Endowment member, former local NRA chapter president, a member of the National Shooting Sports Foundation and the Heritage Foundation.
Survivors include: his wife, Jane Trulock of Whigham, GA; sons, Scott Trulock (Jana) of Whigham, GA, Jerrod Trulock of Whigham, GA; grandchildren; Rylee Trulock, Rett Groeneveld, Lorelei Trulock, Kayli Trulock, of Whigham, GA; sister, Patti Faulkner (Butch) of Merritt Island, FL; brothers-in-law and sisters-in-law, Dian and Thomas Pyles, Bobby and Esther Perkins, Judy and Richard Lane, and Sammy and Terri Perkins; nieces and nephews, Jesse, Grace, Luke, Delani, Jason, Jennifer, Bobby Jr., Rich, Brooke, Lafe, and Samantha; as well as a host of cousins and extended family.
He was preceded in death by his parents, father and mother-in-law, Tommie and Annie Mae Perkins and a nephew, Garrett Pyles.
Friends are welcome to visit the Trulock family at home.
In lieu of flowers: Memorial contributions may be made to Trinity Primitive Baptist Church Cemetery Fund, c/o Sammy Perkins, 429 Cleon Waldrop Rd., Whigham, GA 39897.
Click On The Link Below To View Video Tribute
https://www.tributeslides.com/tributes/show/8ZD48Z83Y8TFFHDK
For those who desire, condolences may be offered to the family by
clicking here
.