Emily Gandy
April 11, 1933 – August 6, 2022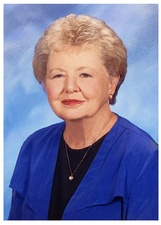 Emily Zeigler Gandy, born April 11, 1933, died at age 89, surrounded by her loving family.  Emily, (Emma Lee Zeigler at birth) was born and raised in Lowndes County, GA, to John Henry and Lois (Mims) Zeigler.  After graduating Pine Grove School in Hahira, GA, she attended ABAC majoring in Home Economics.
As the eldest of seven children, she was strong and hard working.  She told stories about working on Staten's Farm as a child with her siblings.  Soon after college she started her family, moving to several cities including Tampa, Valdosta, and France.  They then lived in Duluth, MN where she managed a career in childcare and 3 little girls, a garden and many beloved animals.  Next the family moved to Warner Robins and she worked as a supervisor at the air force BX.  They finally settled in Cairo in 1971 where Emily worked with the Help Agency, was a caregiver for family members, and ran her business the Country Gardens growing and selling daylilies.  Her final work was serving as a private caregiver for several folk.  She loved helping people and never left you empty handed, whether it was a bag of daylilies or a jar of mayhaw jelly.
Emily was an active member of the First United Methodist Church of Cairo.  For forty years she served the church community by helping prepare the Wednesday night church suppers.  Helping her church was the most impactful activity of her life.  She also was active in the local Daylily Club, where she made many friends.  Emily became known around the community for her service and was proudly named Cairo Woman of the Year 1991.
Her final years were spent in Dacula, GA with her daughter's family and then Gateway Gardens ALF in Bethlehem, GA.  Her family would like to thank the caregivers at Gateway Gardens and Bristol Hospice for their attentive care.
She is survived by her three daughters: Gale Gandy Lee of Cairo; daughter and son-in-law, Donna and Lynn Laycock of Dacula; daughter and son-in-law, Carol and Robert Fleitz of McDonough, GA; three grandchildren: Sarah Lee of Cairo, Lian Laycock and Emily Laycock of Dacula; great granddaughter Madison Knight of Cairo. Emily is also survived by her former husband and the father of her children Irwin Anthony Gandy. She has two living sisters, Helen Virginia (Joyce) Fields of Birmingham; and Shirley (Ed Sanders) Greene of Eastman, GA; a living brother, Jack Staten (Leera) Zeigler of Hahira; and many nieces and nephews.
She was preceded in death by three siblings, John "Buddy" Zeigler, Gene Zeigler, and Sue Zeigler Cox.
A memorial service will be held for Emily at Clark Funeral Home at 11:00 a.m. on Saturday, August 20, 2022.  Reverend Dr. Ken Reed will officiate.  The family will receive friends immediately following the memorial service.
In lieu of flowers, donations may be made to Cairo First United Methodist Church, 318 S. Broad Street, Cairo GA 39828 or Bristol Hospice Foundation, ℅ Crystal, 1252 Virgil Langford Dr., Watkinsville, GA 30677.
For those who desire, condolences may be offered to the family by
clicking here
.