Elizabeth VanLandingham "Beth" Wight
April 23, 1931 – March 4, 2023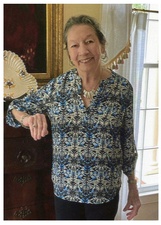 Elizabeth VanLandingham Wight, 91, devoted wife, mother and friend, died peacefully at Archbold Hospital in Thomasville, GA. Her parents were Mabel Maxwell VanLandingham and Robert Roscoe VanLandingham of Cairo, GA. She was predeceased by the love of her life, John B. Wight, Jr. "Johnny," her husband of 67 years. They had five daughters: Mary Wight of Mandeville, LA, Sally Murphy (George) of Atlanta, GA, Gretchen McKenzie (Tom) of Jacksonville, FL, Elizabeth "Lib" Quirk (Neal) of Atlanta, GA, and Louise Murphy (Rob) of Greensboro, GA.  Beth was blessed with fourteen grandchildren: Todd Ellefson, David McKenzie (Anna), Elizabeth Mairs (Jeremy), Wight Murphy, Georgia Murphy, Neal Quirk, John Quirk (Chandler), Joe Quirk, Elizabeth Quirk, Cullen Byrne (Allyse), Ashley Childs (Matt), William Byrne (Megan), Sarah Murphy and Brian Murphy (Brooklyn), and twenty great-grandchildren, all of whom she deeply loved.
Beth grew up the baby of a large and loving family.  She often shared memories of sitting around the dinner table talking for hours, then rolling back the rug to dance with her siblings.  A love of family continued to be her legacy.  Beth referred to Johnny as her love and her life.  She continually expressed gratitude for her beautiful life with him and the blessings of daughters, sons-in-law, grandchildren and great-grandchildren.  Beth had a way of making each family member feel deeply loved and special.
Beth treasured her friends.  Many longtime Cairo friends were close to her heart, and she considered them family.  Beth and Johnny also had special friends from all around the country.  As Beth loved entertaining, she could put together a beautiful dinner party with no notice and did so often.  Friends had a favorite bedroom on their visits to Cairo hosted by Beth and Johnny.  Beth was the consummate hostess, a wonderful cook and a master at creating beautiful spaces.  Gardening was also a passion. Growing vegetables, satsumas and tending her beautiful yard gave her great joy.
Beth was a graduate of Cairo High School and attended the University of Georgia where she was an ADPi.   She had a deep love for and pride in the United States, Georgia, and particularly Cairo and Grady County. She had a passionate desire to make the world a better place and tried to make a difference wherever she could.  Beth was a cofounder of the Grady County Help Agency and was an active life-long member of First United Methodist Church where she served on many committees. This mother of five daughters was the leader of a boy scout troop and worked concessions at many high school football games.
Beth lived her life with humility, loving her role of encouraging, supporting, serving and building up those around her. She was intelligent and hardworking, always present for anyone who needed her.
A memorial service will be held at Cairo First Methodist Church on Tuesday, March 7, 2023 at 2:00 p.m. with visitation afterwards in the Fellowship Hall.  Memorials may be made in Mrs. Wight's memory to: Cairo First United Methodist Church for the new Music Sound System or the Grounds Beautification/Maintenance Fund, 318 South Broad Street, Cairo, GA 39828; or to Grady General Hospital's new skilled nursing facility, Archbold Living Cairo (designate Beth Wight Garden), c/o Archbold Foundation, Attention Vann Middleton, 910 South Broad Street, Thomasville, GA 31792.
For those who desire, condolences may be offered to the family by
clicking here
.