Clara Johns Roberts
April 12, 1929 – September 23, 2015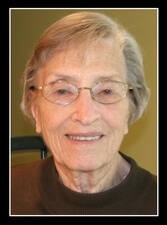 Memorial services for Clara Johns Roberts, 86, of Whigham, GA, are at 11:00 a.m., Monday, September 28, 2015, at the Whigham United Methodist Church, Whigham, GA. Rev. Marsha Emery will officiate. Services will conclude at the church. Private interment will be in Woodlawn Cemetery, Whigham, GA. Mrs. Roberts passed away at her daughter's home in Millersville, MD, on Wednesday, September 23, 2015.
Mrs. Roberts was born on April 12, 1929, in Mobile, AL, to the late Carlos Yerby Johns and Mamie Bernice Whitehead Johns. On December 22, 1946, she married Wilson Roberts, who preceded her in death on October 14, 1994. Her brother, Sonny Johns, also preceded her. Wherever she and Wilson resided, her first order of business was to join the United Methodist Church, remaining a devoted, active member of the Church in Whigham. Her faith and love of community helped to define her.
Mrs. Roberts, Mayor of Whigham from 1998 – 2000, was a great lover of nature, maintaining her flowers and plants year round and enjoying her hummingbirds, whom she often referred to as tenacious and full of pride. A retired educator employed with the Grady County Board of Education and a participant in adult literacy programs, Mrs. Roberts was a voracious reader whose passion for learning endures in her children.
Survivors include: daughter, Kathryn Learn (Glenn) of Millersville, MD, sons, Kenneth Roberts (Lindi) of Miami, FL, Karl Roberts (Becky) of Jacksonville, FL, Keith Roberts of Atlanta, GA; grandchildren, Kristen Murphy of West Palm Beach, FL, Kolin Roberts (Joanna) of Ft. Lauderdale, FL, Joann Norman (Eric) of Orlando, FL, Kyle Roberts of Jacksonville, FL, Bright Roberts of Jacksonville, FL; great-grandson, Jonah Murphy of West Palm Beach, FL; and a sister, Ruth Givens (Kenneth) of Bonifay, FL.
In lieu of flowers, memorials may be made in Mrs. Roberts' memory to: Whigham United Methodist Church Building Fund, P. O. Box 4, Whigham, GA 39897.
The family will receive friends at Clark Funeral Home on Sunday, September 27, 2015, from 4:00 p.m. until 6:00 p.m.
For those who desire, condolences may be offered to the family by
clicking here
.