Clara Jean Faircloth
December 4, 1924 – August 14, 2015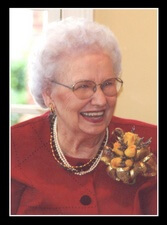 Funeral services for Clara Jean Faircloth, 90, of Cairo, GA, are at 3:00 p.m., Sunday, August 16, 2015, at the Chapel of Clark Funeral Home, Cairo, GA. Rev. Robert Crapps and Rev. Ron McCaskill will officiate. Services will conclude at the Chapel. Private interment will be in Greenwood Cemetery, Cairo, GA. Mrs. Faircloth passed away at Camellia Gardens of Life Care in Thomasville, GA, on Friday, August 14, 2015.
Active pallbearers will be Kevin Chason, Gary Poppell, Todd Faircloth, Jarrett Faircloth, Bobby Burns, Donald Walden and Tanner Shealy.
On December 4, 1924, Clara Jean was born in Grady County, GA to Lonnie and Lucy Belle Johnson. Clara Jean was raised in a farming community and grew up just down the road from a handsome young man who was to become the love of her life and her husband, Earl Faircloth. They went to school together and married when they were just 17. Together they had three children, Harry D. Faircloth and Ellen Faircloth Hester Leathery and sadly lost their infant son, Stan, to pneumonia at 3 months. On August 14, 2015, she left this earthly world to reunite with her beloved Earl, and Heaven gained a beautiful angel.
Clara Jean was a fine seamstress and was often seen knitting, crocheting or cross stitching. She loved a good romance novel; when not creating a lovely hand-stitched piece, she could be seen reading the latest best seller. She was an excellent cook of the old style country variety, but in particular she loved sweets. This love was inspired by the fact that she grew up in the depression when sweets were scarce, but she certainly made up for lost time once she was grown. She baked delicious cakes and was known for her Italian Crème, which was loved throughout the county. But more than stitchery, more than sweets, Clara Jean loved pretty shoes and clothes. She was always dressed to the "nines" and was rarely seen without the latest edition of spectator pumps from Sellers Shoes. A classy lady in all aspects, she was loved and admired by fellow residents at Camellia Gardens and even there was "The Pres."
In 1953, Clara Jean started working at the Cairo Telephone Company, followed by the Messenger Publishing Company, and later at Grady County EMC until her retirement in December 1989. After her retirement, one of her greatest joys was baby-sitting her great-grandchildren, Kathryn and Kelly Prince, Sarah and Phillip Chason.
She was united with Magnolia Baptist Church in 1945 and later transferred her membership to Eastside Baptist Church. There she served for 5 years as Woman's Missionary Union President. In 1976, she transferred her membership to Cairo First Baptist Church where she remained an active member until her death. She was also a past member of the Cairo Woman's Club and the Grady Golden Kiwanis where she served in various positions in both organizations. She was a member of Al-Anon.
She is survived by: her son, Harry Faircloth (Laurie) of Juliette, GA; a daughter, Ellen Hester Leathery (Chuck) of Monroe, GA; grandchildren, Martha Hester Poppell (Gary), Mary Chason (Kevin), both of Cairo, GA, Todd Faircloth of Statesboro, GA, Brande Faircloth Shealy of Centerville, GA, Anna Bass (Alex) of Gray, GA; great-grandchildren, Kathryn and Kelly Prince, Sarah and Phillip Chason, Abbi, Emma, and Jarrett Faircloth, Madison Hutcheson and Tanner Shealy, Alli and Anna Hester, and Hunter and Maitland Bass; sisters-in-law, Doris Knight (Winburn), Juanita Faircloth, Carolyn Johnson; and her dear friend, Edsel Harrell of Tifton, GA.
She was preceded in death by her loving and devoted husband, Earl Faircloth; her parents, Mr. and Mrs. Lonnie Johnson; a son, Stan Faircloth; a grandson, Sam Hester, who proudly served in the US Army; brothers, Douglas and Forest Johnson; and a sister, Hazel Fleming.
In lieu of flowers, memorials may be made in Mrs. Faircloth's memory to: Butler Cemetery Fund, c/o of Myrtle Lewis, P. O. Box 91, Whigham, GA 39897; or Hospice of Southwest Georgia, 114A Mimosa Drive, Thomasville, GA 31792
The family will receive friends at Clark Funeral Home on Sunday, August 16, 2015, from 2:00 p.m. until 3:00 p.m.
Please enter your information and condolence message. The condolence you submit is private and will only be used to forward to the family.
For those who desire, condolences may be offered to the family by
clicking here
.