Bernice Walden Singletary
November 1, 1926 – August 25, 2015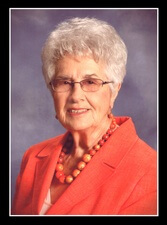 Funeral services for Bernice Walden Singletary, 88, of Whigham, GA, are at 3:00 p.m., Thursday, August 27, 2015, at Providence Baptist Church, Whigham, GA. Rev. Steve Singletary and Rev. Chad Cooper will officiate. Services will conclude at the church. Private interment will be in Providence Church Cemetery, Whigham, GA. Mrs. Singletary passed away at her home in Grady County, GA, on Tuesday, August 25, 2015.
Active pallbearers will be her grandchildren. Honorary pallbearers will be the members of the Caleb Sunday School Class of Providence Baptist Church.
Bernice Walden Singletary was born on November 1, 1926, in Whigham, GA, to the late D. M. Walden and Lula Smith Walden. On September 29, 1943, she married Johnny Ledford Singletary, who preceded her in death on May 23, 1990. She was a homemaker and later worked with the Grady County Board of Education in the Jobs with Dignity Program. A family tradition was the Sunday Meal for all the family and friends at her home. The love for her family was seen in her constant dedication to their needs and spiritual wellbeing. She was a faithful member of the Providence Baptist Church in Whigham.
Survivors include: daughters, Connie Clark (Dennis) of Whigham, GA, Cheryl Sellers (Mike) of Whigham, GA; sons, Roger Singletary (Anita) of Whigham, GA, Steve Singletary (Melinda) of Whigham, GA, Sidney Singletary (Stacey) of Whigham, GA; grandchildren, Daryle Singletary (Holly) of Lebanon, TN, Kevin Singletary (Melinda) of Whigham, GA, Craig Singletary (Kasie) of Whigham, GA, Jody Singletary (Michael) of Whigham, GA, Cori Griffin (Bo) of Whigham, GA, Cali Bradley (Junior) of Whigham, GA, Michaela Singletary of Whigham, GA, Elly Kate Singletary of Whigham, GA, Josh Sellers (Wendi) of Whigham, GA, Brett Sellers (Charlene) of Cairo, GA, Rainey Sellers of Whigham, GA; great-grandchildren, Jonah and Mercer Singletary, Nora Caroline and Charlotte Rose Singletary, Kayla Dodson, Kyler Singletary, Ella and Greyson Singletary, Marley Robinson, Drew and Eden Singletary, Savanna Bradley, Anna Lee Parks, Karlee and Kason Sellers, Destiny Sellers; great-great-grandchild, Chloe Dodson; sister, Louise Chitwood of Monticello, FL.
She was preceded in death by parents and her husband.
Memorials may be made in Mrs. Singletary's memory to: Providence Baptist Church, Special Projects Fund, 975 Providence Road, Whigham, GA 39897; or Gentiva Hospice, 432 East Shotwell Street, Bainbridge, GA 39819.
The family will receive friends in the Fellowship Hall of Providence Baptist Church on Thursday, August 27, 2015, from 1:00 p.m. until 2:30 p.m.
Please enter your information and condolence message. The condolence you submit is private and will only be used to forward to the family.
For those who desire, condolences may be offered to the family by
clicking here
.