William Travis Bryant
February 14, 1929 – July 24, 2022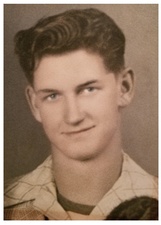 Funeral services for William Travis Bryant, 93, of Cairo, GA, are at 11:00 a.m., Saturday, July 30, 2022, at Pine Park Baptist Church, Cairo, GA.  Rev. Steve Wooten will officiate.  Services will conclude at the church.  Private interment will be in Pine Park Baptist Church Cemetery, Cairo, GA.  Mr. Bryant passed away at his home on Sunday, July 24, 2022.
Mr. Bryant was born on February 14, 1929, in Cairo, GA, to the late Irvin Bryant and Alice Foy Singletary Bryant.  On January 24, 1948, he married Hulayne Augusta Bryant, now deceased. They were married for 73 years. He was a loving husband and father to his children.  He had 4 children, 6 grandchildren, 11 great-grandchildren and 1 great-great-grandchild.  He was a devoted member of Pine Park Baptist Church.
Survivors include: children, Robert Irvin Augusta Bryant (Sheryl) of Cairo, GA, Amanda Bryant McAdams (James) of Tallahassee FL; daughters-in-law, Wanda Bryant-Ferguson of Thomasville, GA, Clara Joe Thomas of Cairo, GA; grandchildren, Michelle Bryant, Clayton Bryant, Travis Bryant (Jeanna), Kelly Joyner (Jeffrey), Deirdre McAdams, Augustus Bryant; great-grandchildren, Dustin McClelland, Chelsey Mixon, Hunter Burgess, Marcus Bryant, Austin Joyner, Landry Joyner, Tyson Joyner, Will Bryant, Sam Bryant, Gavyn Bryant, Gabe Bryant; great-great-grandchild, Cohen Mixon; sister-in-law Eudelle Bryant; and a host of nieces, nephews and extended family.
He was preceded in death by: his parents; his wife; sons; Jackie Travis Bryant, William Ted Bryant; brothers, Ralph Bryant, George Bryant, Carey Bryant, Irvin Bryant; and two sisters, Nell Horne, and Jeanette Hart.
In lieu of flowers, memorials may be made in Mr. Bryant's memory to: Pine Park Baptist Church, 3783 Pine Park Road, Cairo, GA 39828.
The family wishes to extend their appreciation to caregivers, Molly Lewis, Danielle McLendon and Holly Taylor for their loving and compassionate care of Mr. Bryant.
The family will receive friends immediately following the funeral service in the church sanctuary.
For those who desire, condolences may be offered to the family by
clicking here
.