William Berl Hawthorne
August 30, 1949 – June 29, 2019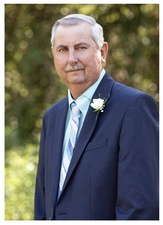 Funeral services for William Berl Hawthorne, 69, of Whigham, GA, are at 11:00 a.m., Tuesday, July 2, 2019, at the Chapel of Clark Funeral Home, Cairo, GA. Rev. Robert Crapps will officiate. Private interment will be in Hawthorne Cemetery, Cairo, GA. Mr. Hawthorne passed away at Tallahassee Memorial Hospital in Tallahassee, FL, on Saturday, June 29, 2019.
Mr. Hawthorne was born on August 30, 1949, in Whigham, GA, to the late Robert Marvin Hawthorne and Mattielene Barber Hawthorne. On June 19, 1970, he married Audrey Godwin Hawthorne, who preceded him in death on February 6, 2019. He was self-employed as a farmer. He was a member of Providence Baptist Church in Whigham.
Survivors include: daughter, Tonya Welch (Blane) of Cairo, GA; son, Travis Hawthorne (Kelly) of Whigham, GA; grandchildren, Cali S. Robinson (Hunter) Cairo, GA, Rhyn Schafer of Lakeland, GA, Hank Hawthorne of Whigham, GA, JW Hawthorne of Whigham, GA; brother; James Hawthorne (Angie) of Whigham, GA; sisters, Shirley Brookins DeWert (William) of Whigham, GA, Carolyn Lowe (Ed) of Havana, FL, Betty June Franklin (Jerry) of Eugene, OR; and a host of nieces, nephews and extended family.
He was preceded in death by: his parents; his wife; and brothers, Winston Hawthorne, Robert Hawthorne.
Memorials may be made in Mr. Hawthorne's memory to: Hawthorne Cemetery Fund, c/o Demetrius Harrison, 64 24th Street NE, Cairo, GA 39828; or Alzheimer's Association National Capital Area Chapter, 8180 Greensboro Drive, Suite 400, McLean, VA 22102.
The family will receive friends at Clark Funeral Home on Monday, July 1, 2019, from 6:00 p.m. until 8:00 p.m.

For those who desire, condolences may be offered to the family by
clicking here
.