Vanna May Allen
October 11, 1957 – November 21, 2020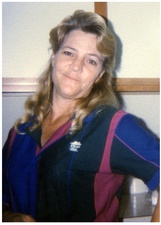 Vanna May Allen, 63, of Cairo, GA, passed away at Archbold Memorial Hospital in Thomasville, GA, on Saturday, November 21, 2020.  The family will have a memorial service on December 12, 2020.
Mrs. Allen was born on October 11, 1957, in Ft. Lauderdale, FL, to the late Joseph Daniel Keene and Sara Keene. On July 31, 1993, she married Michael Allen, who survives.  She was a homemaker.
Survivors include: her husband, Michael Allen of Cairo, GA; sons, Tommy Phelps, Jr. of Cairo, GA, Aaron Newgard (Kimberly) of Troy, AL; daughter, Bethanne Brown (Travis) of Kissimmee, FL; grandchildren, Summer Phelps, Cody Sandefur, Sara Sandefur, Ashley Carroll, Julie Phelps, Kailey Phelps, Olivia Jahoda, Grace Brown, April Kelly, MaKayla Lawrence, Brenden Lawrence, Isabella Newgard; great-grandchildren, Ayden Rivenburg, Sophia Rivenburg, Hazel Carroll, Ella Rose Phelps; sisters, Diane Chason (Mike) of Cairo, GA, Jo Ann Hall of Montverde, FL; and brothers, Daniel Keene (Denise) of Cairo, GA, Kenny Keene (Seritha) of Cairo, GA.
She was preceded in death by: her parents; and daughters, Jamie Sandefur, Malinda Burian.
For those who desire, condolences may be offered to the family by
clicking here
.