Sylvia Ingram Strickland
August 16, 1936 – August 5, 2020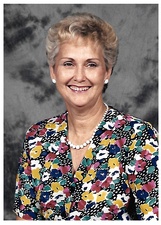 Private graveside funeral services for Sylvia Ingram Strickland, 83, of Mount Dora, FL, will be held on Sunday, August 9, 2020, in Greenwood Cemetery, Cairo, GA.   Her sisters, Carolyn Rehberg and Peggy Baggett will officiate.  Mrs. Strickland passed away at her home in Mount Dora, FL, on Wednesday, August 5, 2020. After several years of declining health, she is now home in heaven with her beloved Ralph, her parents, the angels, and her Lord, Jesus Christ.
Mrs. Strickland was born on August 16, 1936, in Cairo, GA, to the late Zebbie Neal Ingram and Virginia Hurst Ingram.  On June 6, 1954, she married David Ralph Strickland, who preceded her in death on June 5, 2015.  They were married for 61 years.  She was self-employed.  She was a member of the Family Bible Church in Eustis, FL.
Survivors include: her children, son; Michael Strickland of Sorrento, FL, daughter; Lisa Bentley and her husband, Brian of Mt. Dora, FL; grandchildren, Brittany Bentley (Alex) of Tavares, FL, Brandon Bentley (Heather) of Tavares, FL, Brian Bentley, Jr. (Stephanie) of Englewood, FL, Lindsey Rodgers (Shawn) of Moultrie, GA; great-grandchildren; Madison Bentley, Haley Ray, Karston Pope, Jolene Bentley, June Bentley, Riley Pace, Layth Stitou, John Shahid; sisters, Betty Cummings of Cairo, GA, Carolyn Rehberg (Cary) of Cairo GA, Zebeline Prince of Lynn Haven, FL, Peggy Baggett (Earl) of Monticello, FL; brothers, Bill Ingram (Rhonda) of Cairo, GA, Ed Ingram (Sandra) of Chandler, FL, Don Ingram (Kimberly) of Cairo, GA; and a host of nieces, nephews and extended family.
She was preceded in death by her parents and her husband.

For those who desire, condolences may be offered to the family by
clicking here
.