Sara Robinson Thomas
December 12, 1928 – December 9, 2019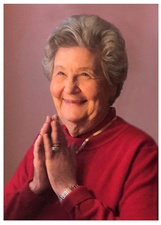 Funeral services for Sara Ellen Thomas, 90, of Thomasville, GA, formerly of Cairo, are at 11:00 a.m., Thursday, December 12, 2019, at the First Baptist Church, Cairo, GA. Rev. Chris Allen will officiate. Services will conclude at the church. Private interment will be in Sunset Memorial Gardens, Thomasville, GA. Mrs. Thomas passed away at Archbold Memorial Hospital in Thomasville, GA, on Monday, December 9, 2019.
Active pallbearers will be her nephews, Rob Robinson, Mike Robinson, Ed Robinson, John Davis, Jr., Terry James Chastain and Christopher Rehberg.
Mrs. Thomas was born on December 12, 1928, in Cairo, GA, to the late Edgar Thomas Robinson and Jewell Harrison Robinson. On January 7, 1949, she married William Estus "Billy" Thomas, Jr., who preceded her in death on August 26, 2017. They were married for 68 years. Many brides in the surrounding area were the recipients of her talents as she served as wedding coordinator, director and caterer for many years. Sara was a devoted member of the First Baptist Church of Cairo since 1952. She served on various church boards and committees, served as Vacation Bible School Director for many years and taught children's Sunday School. She was a member of the First Baptist Church WMU and seniors Joy Club. She was a long-standing member of Cairo Woman's Club having served on virtually every committee and was President for several years. In 2001, Sara was honored as a recipient of the Georgia Gracious Ladies. She was active in all facets of her girls' lives with school and social functions while they were in school and continued that with her grandchildren and most recently with her great-grandchildren. With Sara's and Billy's involvement in their grandchildren and great-grandchildren's lives, she was affectionately known by many as "Mimi."
Survivors include: daughters, Ellen Thomas Cox and Jerry of Cairo, GA, Julia Thomas Harper and JR of Thomasville, GA; grandchildren, Jerry Cox, Jr. and Vicki of Lake in the Hills, IL, Brande Cox Strickland and Stephen of Cairo, GA, Heidi Harper Hall and Bernie of Thomasville, GA, Mandy Cox Daughtry and Travis of Cairo, GA, Heather Harper Waldrop and Mike of Thomasville, GA, Haley Harper Perkins and Lafe of Whigham, GA, Hunter Harper and Audrey of Thomasville, GA; great-grandchildren, Lee Cox, III of Atlanta, GA, Sara Morgan Cox Comiskey and Jon of Buena Vista, CO, Owen House, Cullen House, both of Thomasville, GA, Braxton Hall, Landon Hall, Addy Hall, all of Thomasville, GA, Haven Gammill, Jewell Grace Gammill, Joshua Strickland and Gabe Strickland, all of Cairo, GA; Will Thomas Daughtry of Cairo, GA, Rodge Waldrop, Roland Waldrop, both of Thomasville, GA, Hardy Harper, Hudson Harper, Hazel Harper, Haywood Harper, all of Thomaville, GA, Samuel Perkins of Whigham, GA; brother, Julian Robinson and Withla of Pavo, GA; and a sister, Doris Robinson Alligood of New Smyrna Beach, FL; and a host of nieces, nephews and extended family.
She was preceded in death by: her parents; her husband; brothers and sisters-in-law, Tommy Robinson and Ruby, Dewey Robinson and Joyce.
Memorials may be made in Mrs. Thomas' memory to: First Baptist Church, Flower Fund Committee, P. O. Box 1538, Cairo, GA.
The family will receive friends at Clark Funeral Home on Wednesday, December 11, 2019, from 6:00 p.m. until 8:00 p.m.

For those who desire, condolences may be offered to the family by
clicking here
.