Rubie Sandiford "Sandy" Lynch
December 31, 1940 – February 3, 2020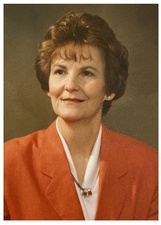 Funeral services for Rubie Sandiford "Sandy" Lynch, 79 years old, of Perry, GA will take place at the Conner-Westbury Funeral Home in Griffin, GA on Saturday, February 8, 2020. The family will receive friends at the funeral home at 2:00 p.m. followed by a service at 3:00 p.m. in the chapel. The Reverend Alton Wilson will officiate. Interment will follow at Mt. Gilead Baptist Church Cemetery which is located on US 19 in Griffin.
Pallbearers will be: Michael Lynch, Michael Lynch, Jr, Julian McLendon, II, Julian McLendon, III, Corbett Wilson and Jonathan Lynch.
Born in Winnsboro, LA to Clay and Lois Sandiford on December 31, 1940, Sandy lived a full life. Marrying Lloyd Edward "Ed" Lynch in Atlanta on November 1st, 1959, they were blessed with five children.
Sandy is survived by her children and their spouses: Dr. Michael Lynch, Darlene McLendon (Dr. Julian), Rebekah Robinson (Kevin), Rachel Wilson (Corbett) and Dr. Jonathan Lynch (Dr. Kendra). Survivors also include nine grandchildren: Bobbi (Lynch) McCullen (Andrew), Michael Lynch, Jr, Julian McLendon, III, Jessica (McLendon) Gustafson (Paul), Cherish Glover, Hannah Lynch, Caleb Lynch, Seth Lynch and Sarah Lynch; sister-in-law, Sarah Sandiford; as well as a host of nieces, nephews, and cousins also remain.
Sandy was preceded in death by her husband of 57 years, Reverend Ed Lynch; parents, Clay and Lois Sandiford; sister, Opal Sandiford White; and her brother, Reverend Willard Sandiford.
For those who prefer, the family asks that memorial gifts be made to: First Option Care in Cairo, Georgia, in memory of Sandy Lynch. First Option Care is a Choose Life, Faith Based Pregnancy Resource Center located at 930 4th St SE, Cairo, GA 39828.
Conner-Westbury Funeral Home, 1891 West McIntosh Road, Griffin, GA is in charge of arrangements. (Phone 770-227-2300) Please join the family and friends in honoring the life of Rubie Sandiford Lynch by visiting www.conner-westburyfuneralhome.com to post your tributes and memories. Link to Conner-Westbury Funeral Home

For those who desire, condolences may be offered to the family by
clicking here
.