Robert Lane Gainey
June 2, 1927 – January 5, 2021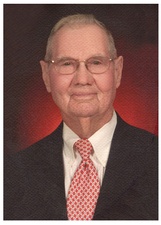 Graveside funeral services for Robert Lane Gainey, 93, of Cairo, GA, are on Saturday, January 9, 2021, in Gainey Cemetery, Cairo, GA.  Rev. Charles Parker will officiate.  Military Honors will be presented at graveside.  Mr. Gainey passed away at his home on Tuesday, January 5, 2021.
Active pallbearers will be Ray Gainey, Blake Jones, Gary Gainey, Wayne Tootle, Wesley Lee, Sonny Lee and Tony Bajoczky.
Mr. Gainey was born on June 2, 1927, in Cairo, GA, to the late Cullen Gainey and Velma Lane Gainey.  He served his country in the United States Army.    On December 17, 1949, he married Ellen Stephens Gainey.  They have been married for 71 years.  He was a longtime member of the Calvary Lions Club, serving as President and on various other committees.  He was instrumental in building the "Syrup Building" on the Mule Day grounds and was one of the "Chief Syrupmakers" during Mule Day for many years.  During his time as a member of the Lions Club, he was named as a Melvin Jones Fellow for dedicated humanitarian services thru the Lions Club International Foundation.
He was also a member of the American Legion.  Robert was a lifelong faithful and dedicated member of Pine Hill Baptist Church, Cairo where he served many years as Chairman of Deacons.
Survivors include: his wife, Ellen Stephens Gainey of Cairo, GA; daughter, Lynn Massey (Phil) of Cairo, GA; grandchildren, T.J. Massey (Sara) of Louisville, KY, Emily Massey of Washington, D.C.; great-grandchildren, Elizabeth Day Massey and Mary Kathryn Massey of Louisville, KY; sisters, Madge Mangum of Palatka, FL, Virginia Kuerner (Ernie) of San Jose, CA, Yvonne Wolfinbarger of Cairo, GA; sister-in-law, Sarah Frances Gainey of Tallahassee; and a host of nieces, nephews and extended family including the Pine Hill Baptist Church Family.
He was preceded in death by: his parents; brothers and sisters-in-law, Wendell & Ila Gainey, Horace Gainey; sisters and brothers-in-law, Sarah & William Dockery, Carlton Mangum, Don Wolfinbarger.
Memorials may be made in Mr. Gainey's memory to: Pine Hill Baptist Church, P.O. Box 1392, Cairo, GA 39828; or Gainey Cemetery, c/o Ray Gainey, 432 Bob Dixon Lane, Cairo, GA 39828.
For those who desire, condolences may be offered to the family by
clicking here
.