Renee Collins Jones
January 25, 1964 – July 18, 2022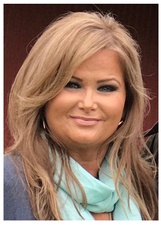 Renee Collins Jones, 58, of Tifton, Georgia passed away unexpectedly on Monday, July 18, 2022, at Southwell Medical Center.
She was born on January 25, 1964 in Cairo, to the late Russell V., Sr. "R.V." and Sylvia Whitfield Collins.  Growing up in Cairo, she was a 1982 graduate of Cairo High School and later obtained her Bachelor of Business Administration from Kennesaw State University.  She married Donald C. "Don" Jones, Sr., of Bainbridge, on June 22, 1985, and the two eventually settled in Tifton, Georgia where they welcomed their only beloved son, Donald "Craig" Jones, Jr. Renee devoted her entire life to taking care of her family and always made Craig's school and extracurricular activities her highest priority.  She had a keen eye for art, home decor, and especially floral designs.  She loved to photograph flowers and sunsets, always finding beauty in the simplicity of God's creations.
Over the years, she and Don enjoyed traveling to new places, all over the United States.  For every city she visited, she chose specific restaurants, always planning her meal for the evening, usually ending with her favorite night cap, a chocolate martini.  She was a self-proclaimed "Foodie." Renee will always be remembered for the love and compassion she had for her family and friends.  She was preceded in death by her Daddy and best friend, R.V. Collins.
In addition to her mother, Mrs. Jones is survived by husband, Don Jones of Tifton; Son and Daughter-in-Law, Craig and Rae Jones of Tifton; Mother, Sylvia Collins, and brother, Russell Collins, both of Cairo; and granddaughters, Annie and Betsie Jones of Tifton.
Funeral services will be held at 1:00 p.m., on Thursday, July 21, 2022, at Tifton First United Methodist Church, with the Rev. Trevor Ward officiating.  Mrs. Jones will be laid to rest at 5:00 p.m., on Thursday, July 21, 2022, at Greenwood Cemetery in Cairo.  The family will receive friends on Wednesday, July 20, 2022, from 6:00 to 8:00 p.m. in the Chapel of Bowen-Donaldson Home for Funerals.
Buck Moore, Taylor Cooksey, Matthew Driggers, Chance Veazey, Duran Brock and Zack Cromer will serve as pallbearers.
You may offer condolences to the family at the online guest registry at www.bowen-donaldson.com.  Services for the Jones family are under the care and direction of Bowen-Donaldson Home for Funerals.  Please call 229-382-4255 if you have any questions.
For those who desire, condolences may be offered to the family by
clicking here
.