Patricia Anne Cox
April 20, 1946 – November 14, 2020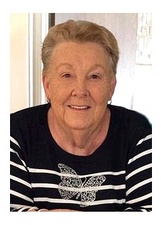 Memorial services for Patricia Anne Cox, 74, of Cairo, GA, will be at 2:00 p.m., on Saturday, November 21 2020, at Rose City Church of God, Thomasville, GA.  Pastor Gerald Horne will officiate.  Mrs. Cox passed away at Archbold Memorial Hospital in Thomasville, GA, on Saturday, November 14, 2020.
Mrs. Cox was born on April 20, 1946, in Cairo, GA, to the late Doyle Wilkes and Hazel Hart Wilkes, who survives. On March 12, 1965, she married Jackie Cox, who survives.  They were married for 55 years.  Until her retirement she was a supervisor with Warners in Thomasville.  She was a member of the Pine Park Baptist Church.
Survivors include: her husband, Jackie Cox of Cairo, GA; children, Shelia Stephens (Johnny) of Cairo, GA, Jacky Cox (Whitney) of Havana, FL; grandchildren, Brian Folsom, Ashley Flowers, Brandon Conrad, Amber Garbett, all of Cairo, GA; great-grandchildren, Kristen Ahlgard, Mason Flowers, Alyssa Flowers, Chloe Folsom, Everleigh Folsom, Carson Conrad, Makinley Conrad, Aria Conrad, all of Cairo, GA; Landon Youmans of Quitman, GA; 2 great-great-grandchildren; her mother, Hazel Wilkes of Thomasville, GA; sisters, Lynn Bennett (Kenny) of Stockton, GA, Gail Bennett (Horace) of Stockton, GA; brothers, Wayne Wilkes (Eva) of Lake City, FL, Shane Wilkes of Valdosta, GA; and a host of nieces, nephews, and extended family.
She was preceded in death by: her father, Doyle Wilkes; grandson, Eric Conrad; and a brother, Kent Wilkes.
Memorials may be made in Mrs. Cox's memory to: the American Cancer Society, P.O. Box 22478, Oklahoma City, OK 73123; or the Wounded Warrior Project, P.O. Box 758516, Topeka, Kansas 66675.
For those who desire, condolences may be offered to the family by
clicking here
.