Mary Sylvia Stone Carrouth
June 18, 1938 – June 3, 2022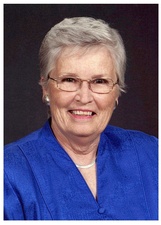 Mary Sylvia Stone Carrouth, 83,of Cairo, GA passed away at home on June 3, 2022. Mrs. Carrouth was born on June 18, 1938, in Enterprise, AL, to the late Emory Booker Stone, Jr. and Mary Margaret Pierson Stone.
Mrs. Carrouth was a devoted and loving wife, mother, grandmother and great-grandmother.  She grew up in Whigham and graduated from Whigham School in 1956.  Upon graduation she attended Valdosta State College for two years before moving to Atlanta where she flew as a stewardess for Delta Air Lines.  On April 10, 1960 she married Johnny Carrouth a young airman in the United States Air Force.  For the next 60 years they would make their home in several states, Canada and Germany.  After Johnny's retirement from the Air Force they decided to make their home in Cairo, GA.
Mrs. Carrouth was a very active in the life of the Cairo First United Methodist through her participation in the choir, Burleigh Sunday School Class, and various service opportunities prior to her illness.  As a member of the Daughters of the American Revolution she found her passion for helping to meet the needs of Homeless Veterans in South Georgia and North Florida.
Sylvia is survived by her son Mark Carrouth (Yvonne) of Hayden, CO; Cheryl Mills (Michael) of Cairo, GA; grandchildren, Jake Mills of Lawrenceville, GA, Samuel Mills (Amber) of Anniston, AL, Christopher and Leah Carrouth of Hayden, CO; great-grandchildren Emory, Annisten, Piper and Vanna Mills of Anniston, AL and a sister-in-law, Sandra Kay Baldwin (Randy) of Arley, AL.
She was preceded in death by her parents, her husband and a brother, Emory Brian Stone.
In lieu of flowers, memorials may be made in Mrs. Carrouth's memory to: First United Methodist Church Mission Projects, 318 South Broad Street, Cairo, GA 39828; or the Grady County Help Agency, P.O. Box 1452, Cairo, GA 39828.
Memorial services for Mrs. Carrouth are at 11:00 a.m., Thursday, June 9, 2022, at the First United Methodist Church, Cairo, GA.  Rev. Christy Bandy and Dr. Ed Lyon will officiate.  Private interment will be in Cairo Cemetery, Cairo, GA.  The family will receive friends immediately following the service in the Fellowship Hall of the church.
For those who desire, condolences may be offered to the family by
clicking here
.