Mark Alan Carrouth
September 15, 1962 – November 15, 2022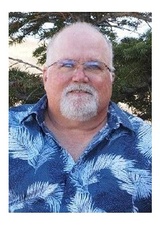 Mark Carrouth, 60, passed away in his home in Hayden, CO, on Tuesday, November 15, 2022. A Celebration is planned for Sunday, November 20th, 2022, at 3:00 p.m. at the Hayden Congregational Church in Hayden, CO.
He was born on August 15, 1962, at Whiteman Air Force Base in Knob Noster, Missouri to the late Johnny Ray Carrouth and Sylvia Stone Carrouth.
Mark was foremost a family man, devoted to his wife and two children.  He collected off-road vehicles, cars and enjoyed tinkering with them in the garage.  Mark loved horseback riding and he and Yvonne rode for many years around the back country near their home.  He never met a stranger, and he was always willing to help his friends and neighbors.  He was a great resource for anyone with a question about a vehicle.  He loved life and lived it to the fullest.
He was a 1980 graduate of Cairo High School and after graduation, he attended Young Harris College in Young Harris, Georgia.
He was employed at Atlantic Aviation as a Line Service Lead for the 12 years and worked in the valley as a carpenter/finisher prior to Atlantic Aviation.
Being an adventurer, Mark found himself in Beaver Creek Colorado, working on the lift lines and skiing whenever possible. He later moved to Steamboat Springs where he resided for several years until moving with his wife to their Hayden property 22 years ago.
Mark is survived by his wife of 24 years, Yvonne; children Christopher Carrouth and Leah Carrouth of Hayden, CO; sister, Cheryl Mills (Michael) of Cairo GA; nephews, Jake Mills of Decatur GA, and Samuel Mills (Amber); great nephew, Emory Mills; great nieces, Annisten, Piper, and Vanna Mills of Anniston, AL; aunt, Sandra Kay Baldwin (Randy) of Arley, AL; and many cousins.
In lieu of flower, donations may be made payable to the Hayden Congregational Church, C/O Grant Mortuary, 621 Yampa Ave., Craig, CO 81625.
Grant Mortuary & Crematory-Craig, 621 Yampa Ave., Craig, CO, is in charge of all arrangements. Call 970-824-6133 if you have any questions.
For those who desire, condolences may be offered to the family by
clicking here
.