Kenneth Roderick Lee, Sr.
August 10, 1942 – October 7, 2019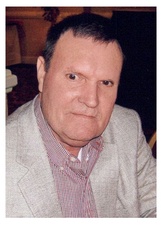 Kenneth Roderick Lee, Sr., age 77, of Morehead City, NC, passed away on Monday, October 7, 2019. Ken was born August 10, 1942 in Cairo, GA, to the late Perry and Hattie Sellars Lee. After graduating from Cairo High School in 1960, he attended Southern Electronic School in Atlanta, GA. On December 9, 1961, he married Joyce Tillis; together they made their home Cairo, GA, their hometown. They later moved to North Carolina where they have resided for the last 50 years.
He was employed 32 years by Machine and Welding Supply Co, in Dunn, NC. He enjoyed his work and fellow co-workers very much. At age 58, he had a massive stroke; at age 73, he was diagnosed with lung and bone cancer. He was confined for 18 ½ years. He was a good man, a strong fighter, and never complained. Ken enjoyed gardening and sharing his veggies with his neighbors as long as he was able. He loved cooking pork shoulders on the grill and sharing with friends and neighbors at Christmas. He loved a beautiful yard and flowers and enjoyed helping less fortunate people. He loved his friends and family very much and was a member of First Baptist Church in Clayton, NC.
Surviving are: his wife of 57 years, Joyce Lee; his son, Ken Lee, Jr.; a daughter, Lisa Lee; three grandchildren and two great grandchildren; brothers, Carl Lee and his wife Betty Jo, Dennis Lee and his wife Gayle; several nieces, nephews and lots of cousins.
Funeral services will be held on Friday, October 11, 2019, at 3:00 p.m. at the First Baptist Church, Clayton, NC, with the family receiving friends following the service at the church.
The family will receive friends at Clark Funeral Home, Cairo, GA, on Tuesday, October 15, 2019, from 6:00 p.m. until 8:00 p.m. Funeral services will be at the Chapel of Clark Funeral Home on Wednesday, October 16, 2019, at 11:00 a.m. Services will conclude at the chapel. Private interment will be in Greenwood Cemetery, Cairo, GA.
In lieu of flowers, memorial contributions may be made to: the First Baptist Church of Clayton, 411 N. Fayetteville St., Clayton, NC 27520; or to Hospice, PO Drawer 1619, Morehead City, NC 28557; or to a charity of one's choice.

For those who desire, condolences may be offered to the family by
clicking here
.