Kelli Elliott Whitfield
November 3, 1975 – May 15, 2022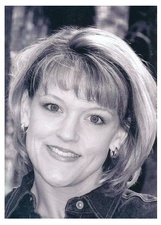 Kelli Elliott Whitfield, 46, of Ochlocknee, GA, passed away at her home on May 15, 2022.  The family will have a private graveside memorial service in Forest Lawn Cemetery, Cairo, GA.  Rev. Steve Wooten will officiate.
Kelli was born on November 3, 1975, in Thomasville, GA, to James Nelson "Doc" Elliott and Mary Janice Bulloch Wind.  She was raised in Cairo for most of her childhood where she would eventually graduate from Cairo High School in 1994. Kelli went on to attend college at Georgia Southern University in Statesboro.
Her love for children and nurturing personality led her to an early career teaching kindergarten at First Presbyterian Church in Anniston, Alabama. She later decided to devote all of her time to her children and took on the role of stay-at-home mother and homemaker. Kelli gave birth to four beautiful children, of which she was so proud. She always felt that her children were the brightest light in her life and gave her purpose.
A few things she enjoyed outside of being a mother included; reading, music, walks on the family farm, and attending church services. Her life became centered around her relationship with God and the teachings of Jesus Christ, which brought her so much peace and tranquility.
Those who knew Kelli were lucky enough to feel the love, laughter, and warmth she brought to everyone's heart. She was unmatched in her ability to give the gift of unconditional love and uphold the sacred value of forgiveness. Her smile was contagious and will forever be missed by those who share memories with her of laughter and kindness.
While her untimely passing is one of life's great misfortunes, may we all take comfort in her relationship with God and her beautiful, kind soul with that touched so many lives in a positive way.
Survivors include: her children, Connor Whitfield (Natalie) of Crawfordville, FL, Hayden Whitfield (Yuna) of Crawfordville, FL, Nic Johnson, Tori Johnson, both of Cairo, GA; mother, Janice Wind of Ochlocknee, GA; father, James Nelson "Doc" Elliott of Cairo, GA; sister, Sammi Hester of Cairo, GA; nieces and nephews, Anna Hester, Alli Hester, Eli Chisholm, all of Cairo, GA.  She was preceded in death by her grandparents.
Memorials may be made in Ms. Whitfield's memory to the Ochlocknee Public Library, 1060 E. Railroad St, Ochlocknee, GA 31773.
For those who desire, condolences may be offered to the family by
clicking here
.