Johnny Ray Carrouth
March 22, 1936 – May 8, 2020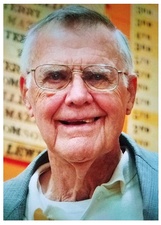 Private graveside funeral services for Johnny Ray Carrouth, 84, of Cairo, GA, will be in the Cairo Cemetery, Cairo, GA. Rev. Christy Bandy will officiate. Mr. Carrouth passed away at Archbold Memorial Hospital in Thomasville, GA, on Friday, May 8, 2020.
Mr. Carrouth was born on March 22, 1936, in Oklahoma City, OK, to the late Lonnie J. Carrouth and Chessie Millard Carrouth. He retired from the United States Air Force after serving his country for over 21 years. On April 10, 1960, he married Sylvia Stone Carrouth, who survives.
After his devoted service to his country through the US Air Force, Johnny and his wife Sylvia decided to make Cairo their home. He was a devoted husband, father, and Papa. Johnny was very active in the life of the Cairo First Methodist Church through his participation in the choir, the Burleigh Law Sunday School Class and various service opportunities. He was a self-proclaimed "jack-of-all-trades, master of none" and was willing to share his gifts with those in the local community and beyond. Johnny believed the "glass is half full" and looked for the good in everyone. He was a man of honor and integrity.
Survivors include: his wife, Sylvia Stone Carrouth of Cairo, GA; children, Mark Carrouth (Yvonne) of Hayden, CO, Cheryl Mills (Michael) of Cairo, GA; grandchildren, Jake Mills (Kristina) of Conyers, GA, Samuel Mills (Amber) of Fayetteville, NC, Christopher Carrouth and Leah Carrouth, both of Hayden, CO; great-grandchildren, Emory, Annisten, Piper and Vanna Mills, all of Fayetteville, NC; and a sister, Sandra Kay Baldwin (Randy) of Arley, AL.
He was preceded in death by his parents and a sister, Emma Lee Kring.
In lieu of flowers, memorials may be made in Mr. Carrouth's memory to: First United Methodist Church Mission Projects, 318 South Broad Street, Cairo, GA 39828; or the Grady County Help Agency, P. O. Box 1452, Cairo, GA 39828.

For those who desire, condolences may be offered to the family by
clicking here
.