John Melton Smith
May 6, 1943 – May 29, 2019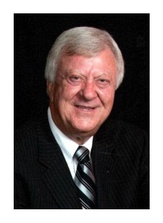 John Melton Smith, age 76, of Montgomery, AL, passed away on Wednesday, May 29, 2019.
He is survived by his beloved wife of 50 years, Shelia Smith; his adopted son, Brian Watkins (Barrie); his grandchildren, Braiden and Taylor Watkins; two sisters and one brother, as well as numerous nieces and nephews. He was preceded in death by his parents, Marshall & Janie Smith.
John was a man of faith who loved Jesus and spent every morning in devotions with the Lord. He loved his wife with all his heart; and although they were never blessed with their own children, many young people thought of him as another father. He enjoyed talking to everyone he met and even shared his testimony with the nursing staff this past week. John always had friends and could talk to anyone. John was a faithful man who will be missed by all, but especially his church family at the First Baptist of Montgomery, AL. He was devoted to the Judgment House Ministry and was determined to make it happen every October.
Visitation will be held at First Baptist Church, 305 S. Perry Street, Montgomery, AL, on Tuesday, June 4, 2019, from 1:00 p.m. to 3:00 p.m. A Celebration of Life will be held at 3:00 p.m., officiated by Rev. Jay Wolf. A Graveside Service will be held at 11:00 a.m., on Wednesday, June 5, 2019, at Woodlawn Cemetery in Whigham, Georgia.
In lieu of flowers, memorials may be made to: First Baptist Church, 306 S. Perry Street, Montgomery, AL 36104, with a designation to the Judgment House; or your favorite charity.

For those who desire, condolences may be offered to the family by
clicking here
.