Inez Collins Moss
December 13, 1925 – January 19, 2023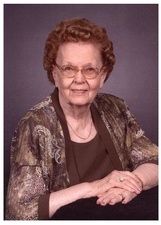 Inez Collins Moss, 97, passed away at her home in Atlanta.  A private graveside service will be held at Magnolia Baptist Church Cemetery with Pastor Robert Crapps and Pastor Jimmy Ausburn.
Inez was born on December 13, 1925, in Whigham, GA, to the late Jim and Lula Sasser Collins.  She had eight brothers and sisters, and they lived on Piney Grove, the western most road in Grady County.  They proudly attended Magnolia Baptist Church where Inez played the piano.  
Inez left Whigham in 1945 to begin her career with Southern Bell in Atlanta.  There she met the love of her life, Robert Lee "Bob" Moss.  They had a wonderful life together.  They were married for almost 60 years and had two children, Mike and Susan.  The family was always very active.  Inez was "Night Chief" operator at Southern Bell for over thirty years.  She also taught Sunday School for sixty-five years.  (Love Class atHeritage Hills Baptist Church in Conyers, GA was her favorite with Pastor Joe Hughes.) Inez was also in charge of the Wednesday night dinners at church.  Never did she complain about a busy schedule.  Visiting family in Whigham was also a regular occurrence and attending her childhood church was special.  
Bob was in the Active Reserve Naval Program stationed in Atlanta.  However, after twenty years of service, he was mandated to transfer to another duty station.  This gave the family the opportunity to spend three years total in Brunswick, ME and Sanford, FL.  They always knew they would return to Atlanta when his service was done.  This time was like a three-year vacation: getting to experience different regions and meeting, socializing and worshipping with different church members.  
Inez never worried; she simply turned things over to the Lord.  There has never been a better role model for children than Inez Collins Moss.  She had a very special relationship with her first grandchild, Kristen.  Kristen always called "MiMi" for advice and prayers.  This lady will be greatly missed, but she is with her Lord and Savior.  
A special thank you to her daughter, Susan, neighbor, Walt Rowe and friend, Pat Knight for assisting Inez recently.  Bob always knew he could count on Susan and Walt to help if it was needed.   Bridgeway Hospice and Mrs. Dashon were special.  
Survivors include: son, Michael Moss and wife Vicki; daughter, Susan Moss Carder; grandchildren, Kristen and husband Shaun, Brandon and wife Alfia, Britt and wife Jenna; great-grandchildren, Ashlyn, Kendall, Joseph, Oskar, Layne and Layla; family friends and neighbors, Donna and Mike Echols, Walt Rowe, Linda Howell, Dot Houston, Henrietta Biltz, Jewell Joyce and Dee Nelms; numerous church members, friends, nieces, nephews, cousins, and little Mike Echols.
She was preceded in death by: her parents; husband; brothers, Vernon and his wife Ethyl, Fred and his wife Minnie Lee, Henry and his wife Peggy, and Jack; sisters, Ercel and her husband Eugene, Hazel and her husband Douglas, Merle and her husband Tom, Amy and her husband James; brothers-in-law, Hula and his wife Louise, Newton and his wife Naomi; sisters-in-law, Ella Mae and her husband Aubrey, Helen and her husband Calvin, Rachel and her husband George; family friends and neighbors, Joe and Kathleen Love, Ralph and Sharlie Howell; numerous church members, friends, nieces, nephews, and cousins.    
For those who desire, condolences may be offered to the family by
clicking here
.