Helen Gary Williams
April 9, 1930 – August 9, 2022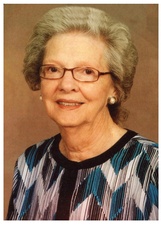 Funeral services for Helen Gary Williams, 92, of Cairo, Georgia, are at 2:00 p.m., Sunday, August 14, 2022, at the First United Methodist Church, Cairo, Georgia. Rev. Sam Vernon will officiate. Private family internment will be in the Cairo Cemetery, Cairo, Georgia. Mrs. Williams passed away at Magnolia Place Senior Living in Cairo, Georgia on Tuesday, August 9, 2022.
Active pallbearers will be Devon Rehberg, Deron Rehberg, Mark Bishop, Robert Hudson, Mike Mills, Matt Sanders and Tommy Smith.
Mrs. Williams was born on April 9, 1930 in Cedartown, Georgia to the late Robert Lee Gary and Addie Dingler Gary. On July 2, 1949, she married Bobby G. Williams, who preceeded her in death on November 3, 2004.
In 1947, while still a teenager, Mrs. Williams began working as a telephone operator with Southern Bell Corporation. She saw the potential for advancement within this company and worked diligently to learn new skills that would enable her to be competitive in a male dominated industry. She was a pioneer, paving the way for future generations of women to pursue a career without being limited by their gender. Her final role with Southern Bell was Management Executive which she held until her retirement in 1983. Having been born during The Great Depression, she took great pride in utilizing a strong work ethic and frugality to establish independent financial stability.
She was a member of the Cairo First United Methodist Church.
Survivors include: her daughter, Kay David of Dublin, Georgia; her sister, Joyce Gary Moss of Cedartown, Georgia; her brother, Robert C. Gary of Abbeville, South Carolina; her grandchildren, Katie Minter Rozier (Rusty) of Jeffersonville, Georgia and John Minter (April) of Marietta, Georgia; and 6 great grandchildren, Sarah Helen Rozier, Rand Rozier, Ellie Minter, Charlotte Minter, Will Rozier and Anna Minter.
She was preceded in death by: her parents; her husband; and her son-in-law, TD David.
In lieu of flowers, memorials may be made in Mrs. Williams' memory to The TD David Memorial Scholarship, United National Bank in c/o Sylvia Ferguson, P. O. Box 150, Cairo, Georgia 39828.
The family will receive friends in the Fellowship Hall of the First United Methodist Church on Sunday, August 14, 2022 from 1:00 p.m. to 2:00 p.m.
For those who desire, condolences may be offered to the family by
clicking here
.