Gerald Doss Thomas
October 22, 1928 – September 25, 2021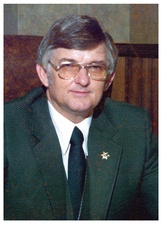 An online Zoom Memorial Service for Gerald Doss Thomas, 92, of Calvary, GA, is at 2:00 p.m., on Saturday, October 2, 2021.  Go to this link:  https://www.zoom.us/join  Use this ID – 823 8743 1040 and Passcode 870061 to view.  (Login starts at 1:30 p.m.)  Brother John Pelham will officiate.  Mr. Thomas passed away at his home on Saturday, September 25, 2021.  Mr. Thomas will be interred in the Cairo Cemetery.
Mr. Thomas was born on October 22, 1928, in Calvary, GA, to the late George Garfield Thomas and Janie Lou Doss Thomas.  He served his country in the United States Army.  After graduation from high school, Gerald received his Bachelor of Business Administration from the University of Georgia in 1949.  On August 20, 1950, he married Orien Womack Thomas, who preceded him in death on October 15, 2013.  They were married for 63 years.  He was the owner and operator of Thomas Mercantile in Calvary, GA for many years.  Gerald served as a county deputy in law enforcement before becoming Sheriff of Grady County in the 1970's.  He was of the Christian faith.
A hard-working man, Gerald finally retired at the young age of 89.  He missed hanging out with the many people that would come by the store just to 'shoot the breeze,' but he kept his eye on the store from the comfort of his home.  He was able to find the best in everyone and thought everyone deserved a second chance.  He was beloved to the people of Grady County, but most of all to his family.
Survivors include: daughter, Sharon Hawthorne (Bruce) of Whigham, GA; son, Bruce Thomas (Ellen) of Calvary, GA; grandchildren, Shelly Gayle (Rees) of Whigham, GA, Vicki Crain (Jimmie) of Tallahassee, FL, Scott Hawthorne of Whigham, GA; great-grandchildren, Gregory Gayle of Whigham, GA, Jason Gayle of Everett, WA, Logan Gayle of Whigham, GA; brother, Howell Thomas of Tampa, FL; and a host of nieces, nephews and extended family.
He was preceded in death by: his parents; his wife; brothers, George Thomas, Jr., Bernard Thomas, Leland Thomas, Gene Thomas, Wayne Thomas, Winston Thomas; and sisters, Virginia Rosser, Thelma Taylor, and Ruth Davis.
The family wishes to acknowledge the undying care that Mr. Thomas received from close friend, Linda Arriga, his great-grandson, Greg Gayle, his granddaughters, Shelly Gayle and Vicki Crain (and husband Jimmie Crain), and his daughter, Sharon Hawthorne, that allowed him to live out his last years in the comfort of his own home surrounded by his family.  No words can adequately express the whole family's appreciation. We would also like to thank Kindred Hospice and Kindred Home Health that took amazing care of him to the end.
For those who desire, condolences may be offered to the family by
clicking here
.