Garrett Tommie Pyles
April 21, 1977 – July 22, 2021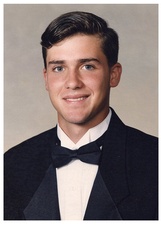 Private graveside funeral services for Garrett Tommie Pyles, 44, of Marietta, GA, are on  Thursday, July 29, 2021, in Woodlawn Cemetery, Whigham, GA.  Elder Jon Mizell will officiate.  Mr. Pyles passed away at his home in Marietta, GA, on Thursday, July 22, 2021.
Active pallbearers will be Scott Trulock, Jerrod Trulock, Rich Lane, Lafe Perkins, Bobby Perkins, Jr., Wesley Pyles, Chris Pyles, Daryl Maxwell and Donnie Maxwell.  Honorary pallbearers will be Tyler Allen and Bao Nguyen.
Mr. Pyles was born on April 21, 1977, in Thomasville, GA, to Thomas Henry Pyles and Sarah Dian Perkins Pyles, both of whom survive.  He was a member of the Cairo High School Class of 1995.  He received his college degree from Southern Polytechnic College of Engineering and Technology in Marietta, GA.  He was a Professional Civil Engineer.  He was employed with CHA Consulting, an architectural engineering company in Atlanta, GA.  He was of the Baptist faith.  He loved the Atlanta Braves, playing with Brody, watching his nephew, Jacob play baseball and his niece, Madi going to the mountains.
Survivors include: his parents, Thomas and Dian Pyles of Whigham, GA; brother, Jason Pyles (Kristen) of Whigham, GA; nephew, Jacob Pyles of Whigham, GA; niece, Madi Pyles of Whigham, GA; grandmother, Annie Mae Perkins of Whigham, GA; aunts and uncles, Bobby Perkins (Esther) of Stanton, VA, Jane Trulock (George) of Whigham, GA, Judy Lane (Richard) of Thomasville, GA, Sammy Perkins (Terri) of Whigham, GA, Linda Maxwell (Neal) of Whigham, GA, Frank Pyles (Donna) of Whigham, GA; his feline best friend and companion, Brody; and a host of cousins and extended family.
He was preceded in death by his grandparents, H.D. and Geneva Pyles and Tommie Perkins.
The family will receive friends at the home of Jane and George Trulock in Whigham, GA, on Tuesday, July 27, 2021 and Wednesday, July 28, 2021 from 4:00 p.m. to 7:00 p.m.
In lieu of flowers, memorials may be made in Mr. Pyles' memory to: Trinity Primitive Baptist Church, c/o Sammy Perkins, 429 Cleon Waldrop Road, Whigham, GA  39897.
For those who desire, condolences may be offered to the family by
clicking here
.