Emmett Emanuel "Sonny" Cox
October 17, 1939 – April 6, 2021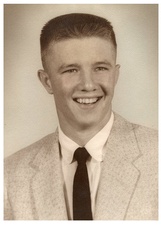 Emmett Emanuel "Sonny" Cox was born in Whigham, Georgia, on October 17, 1939, to Beulah Gainous Cox and John Cleon Cox.  He grew up working with his father at the family service station, where he developed an appreciation for restoring old cars, a skill he carried on for most of his life.  Sonny attended Whigham School, where he played varsity basketball and was named "Most Likely To Succeed."  After high school, Sonny signed on with the Army Security Agency in the 75th USASA Company in Aviano, Italy, where he quickly attained E5 Staff Sergeant rank.
Upon fulfilling his army tour, Sonny moved back to Whigham, where, in 1961, he married Raynell Jowers.  He next took a position for IBM and the couple moved to Atlanta where his business acumen really began to shine.  After several years with IBM, he returned to Whigham where he partnered with a friend to purchase Farmers Peanut Company and brought it back to success.  He, like many men from the south, was a capable handyman and tinkerer and was able to fix almost anything.
Sonny, a member of Whigham United Methodist Church, went to be with the Holy Father on April 6, 2021.  He is survived by his wife, Raynell; his son, Jonathan, daughter-in-law, Beth, and grandson, Ian; and his daughter, Allison, son-in-law, Aaron Charlesworth, and grandchildren, Joshua and Madeleine; and his sister, June Mosely and husband, David "Butch" Mosely; and a host of nieces, nephews and extended family.
There will be a private service to celebrate his life on Sunday, April 11, 2021, in Woodland Cemetery, Whigham, GA.  Reverend Charles Whatley, a man Sonny deeply respected, will officiate.
Memorials may be made in Sonny's memory to: Whigham United Methodist Church, P. O. Box 4, Whigham, GA 39897.
For those who desire, condolences may be offered to the family by
clicking here
.