Embree L. Robinson
1940-2020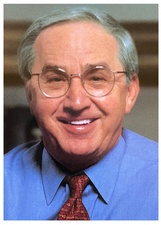 Embree Robinson, a visionary entrepreneur and business man—the founder of the nationally known TRC Staffing Services, Inc.—died Monday, May 4, 2020, at home in Sandy Springs, Georgia. He had battled a variety of illnesses since October, culminating in a heart infection. He was 79.
Embree launched TRC, in 1980 when he was 40; it became one of the fastest-growing temporary staffing services in the United States. He received Ernst & Young's Entrepreneur of the Year Award in 1987.
Embree Lynn Robinson was the youngest of six boys born to Rufus Hill and Martha Vaughn Robinson in Whigham, Georgia (population 500 then and now) on October 4, 1940. He learned the value and rewards of hard work from his father, a carpenter who worked in the W.B. Roddenbery (pickle) Co. A Depression Era child, Embree picked cotton and cut okra in nearby fields. By age 12, he was hitchhiking to work in Cairo, Georgia. During his years at Whigham High School, he served (on Boys State) as a page in the Georgia State legislature; he was on the basketball and track teams and graduated as Mr. Whigham High School, Most Likely to Succeed, and Senior Class President. After a short time at Young Harris College, he joined the United States Army and, from 1960-1963, he was posted at Fort McPherson in Atlanta and Thule Air Base in Greenland.
Returning from the service, Embree wanted to pursue a career in teaching but his older brothers told him he should go back to college to become an accountant; otherwise, they said, he'd never have any money. And so he did. He graduated from the University of Georgia School of Business with a degree in accounting in 1965 and joined Norrell Corporation for 11 years before launching TRC Services in 1980.
By the time of Embree's retirement in 2008, TRC had 40 locations in 12 states and serviced industries from manufacturing, finance and retail to transportation, telecommunications and healthcare. Embree remained as chairman of the board while his son, Brian, took over as CEO. He was proud that the company has been profitable each of its 40 years.
In 1966, Embree met Karen Brown from Marietta through mutual friends, and they married two years later. Karen and their children, Christi and Brian, say that Embree was the same man at home as at work. His colleagues and employees agree that he exemplified honesty, integrity, and fairness. Above all, he was passionate about work and could be tough and soft at the same time. He was a loving and generous man.
Embree was a Trivia buff—a master of all things presidential, historical, geographical, and World War II related. He also was a font for sports-related trivia, enjoyed playing poker, spades, checkers and listening to country music. He was just as happy (almost) riding his tractor on the family's wildlife preserve/farm in Whigham as he was running his successful business. His favorite pastimes were fishing and hunting—hobbies he developed as a child in South Georgia.
He and Karen enjoyed many hiking adventures, from New Zealand and Nova Scotia to Japan, Scotland and the Canadian Rockies. Traveling with the children and grandchildren included trips to Italy, Spain, South America, Alaska and the Baltics. He was a lifelong UGA football fan and enjoyed a good golf game.
Embree served on the American Staffing Association as board member, officer and executive committee member. He was a member of the Dunwoody Country Club and the Dunwoody United Methodist Church.
Embree is survived by Karen, his wife of 50 years, and their children: Christina R. Leibowitz (Mark) of Dunwoody, and John Brian Robinson (Nicole) of Sandy Springs. He is also survived by three grandchildren—Tyler and Katie Robinson and Emma Leibowitz—as well as several nieces and nephews. His brother, Neyland Allen Robinson, of Loganville, also survives him. He was preceded in death by his parents and four of his brothers: Rufus Hill Robinson, Joseph Carroll Robinson, Wilburn Vaughn Robinson and Richard Edwin Robinson.
Because of the Covid-19 virus, a graveside service will take place on the family burial plot in Whigham on Friday, May 8, 2020, for immediate family only. A celebration of Embree's life will be scheduled at a later date to be announced. In lieu of flowers, the family suggests a donation to the Whigham United Methodist Church, P. O. Box 4, Whigham, GA 39897.
For those who desire, condolences may be offered to the family by
clicking here
.