Edward Westmoreland Puckett
November 18, 1960 – June 17, 2020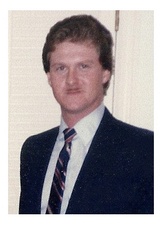 Edward Westmoreland Puckett was the youngest of five children born to Buell and Ruth (Gray) Puckett. He was born on November 18, 1960 in Fairfield, IL, and died peacefully on June 17, 2020, in Cairo, GA.
He is survived by his wife Cindy (Pritchett), of Whigham, GA; his sons Wes of Albany, GA; Josh of Thomasville, GA; and Zach of Columbus, GA; and two grandchildren, Wes's daughter and Josh's son, Josh Jr. Also surviving are his mother of Murray, KY; his siblings Ann (Tom Wilson) of Athens, GA; Tammy Vail (Dennis) of Fairfield, IL; Charlie of Reynoldsburg, OH; and Patti (Tim Rife), of Murray, KY. He leaves a number of nieces and nephews, most especially Tammy's children, Scott Ruhl (Gena), Jennifer Smith (Randy), and Kevin Ruhl (Lucy), to whom he was a big brother while he lived with them and went to Fairfield High School (class of 1980).
Ed was a man of action and a man of the outdoors. In the prime of his life, he was an outstanding employee and a well- respected member of the community. He was noted for community service and won an award from Easter Seals of Southwest Georgia for organizing their annual golf tournament fund raiser.
Because of the Corona virus, no service will be held at this time. The family hopes to have a memorial service at a later date.

For those who desire, condolences may be offered to the family by
clicking here
.