Donna Gibbs Tavener
September 1, 1952 – October 13, 2021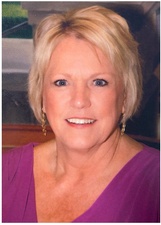 Graveside memorial services for Donna Gibbs Tavener, 69, of Campbell, TX, are at 11:00 a.m., Friday, November 26, 2021, in Woodlawn Cemetery, Whigham, GA.  Rev. Johnny Burdick will officiate.  Donna passed away peacefully at her home on, Wednesday, October 13, 2021.
Born in Bainbridge, GA, on September 1, 1952, she was the daughter of Cecil and Virginia Gibbs.  Donna graduated from Whigham High School in 1970, and went on to pursue a career in education, earning her bachelor's degree and Master of Education from Georgia Southwestern State University, and her Principal Education Certificate from Texas A&M University-Commerce.  She began her teaching career at Staley Junior High in Americus, GA, where she taught for three years before moving to Texas in 1977.  Donna was hired to pioneer the women's volleyball and tennis teams at East Texas State University where she spent the next six years coaching both sports.  After becoming a new mom, she entered the public-school sector as a chemistry teacher, which she enjoyed for the next 19 years.  Fifteen of those were spent at Greenville High School, Greenville, TX, and four more would follow with the Commerce ISD.  She returned to Texas A&M University-Commerce in the fall of 2002 as a member of the education department mentoring students who would go on to become our future educators. Working full-time and then part-time, she retired from the university in 2020.  Prior to and during retirement, Donna could always be found cheering on the Lion athletes and attended most athletic events.  Her former athletes and students continued to stay in close contact throughout the years. "An educator, mentor, and friend to all. Donna touched so many lives in the 40 plus years she spent in education."
She was honored with various awards and accolades over the span of her career, both at the collegiate and high school levels.  Named the Wilson NAIA Intercollegiate Coach of the Year in 1983; the E-Systems Hunt County Science Teacher of the Year; the Greenville ISD Key Communication Award; and in 2000, she was named Secondary Teacher of the Year for Commerce ISD.  A special honor was bestowed upon her in 2012, when she was inducted into the Texas A&M University–Commerce Athletic Hall of Fame.
A firm believer that community involvement was important, she would often volunteer to coach for the local parks and recreation teams (even before she had children of her own). Endless hours were spent coaching and cheering for not only her children, but all those that she knew and loved.  She served on the Board for the Commerce Parks and Recreation Department, as well as the Board of Directors for the Northeast Texas Children's Museum. With education being a passion of hers, Donna was elected to the Commerce ISD Board of Trustees in 2006 and served the citizens in this capacity until May 2010.  She was treasurer for the Commerce Leadership Institute Board of Directors and held several positions within the Thalian Culture Club, where she was a member for almost 40 years.
Shortly after arriving in Commerce, TX, Donna met and fell in love with a basketball player named Jim Tavener, who would become the love of her life for the next 41 years. They married on August 16, 1980, in Commerce, TX.  Donna was the middle of three children and grew up in Whigham, GA amongst the pecan orchards.  Family was important and Donna would make frequent visits back home for a recharge. A devoted wife to Jim, and mother to Jillian and Jeffrey, who blessed her with three precious grandchildren.
She enjoyed traveling with her husband and friends, and volunteering continued to be a part of her life. That added spark in her heart came a mere six years ago with the arrival of her "grand-twins," followed by a granddaughter three years ago.
Donna was preceded in death by her parents, and sister Patsy Morris and her husband Tony Morris.
She is survived by her husband Jim, daughter Jillian Mahan (Ryan) of Glen Rose, and son Jeffrey Tavener (Ashley Bates) of Commerce; three grandchildren, Rhett and Rylan Mahan of Glen Rose, and Raney Tavener of Commerce; her brother Cecil Gibbs (Carolyn) of Whigham, GA; sister-in-law Connie Istas (Brad) of McKinney; brother-in-law Don Tavener (Jackie) of Shawnee, KS; and several nieces and nephews.
Donna was an active member of the First United Methodist Church, Commerce, and treasured every moment spent with family and friends. She continued to think of everyone else first and foremost, giving selflessly of her heart, soul, and time until her passing. To meet her was to love her, and she cherished the friendships that grew and flourished over the years.
In lieu of flowers, donations may be made to: The Northeast Texas Children's Museum, P.O. Box 994, Commerce, TX  75429; First United Methodist Church,1709 Highway 24, Commerce, TX  75428; or a charity of your choice.
For those who desire, condolences may be offered to the family by
clicking here
.