Donald Wayne "Donnie" Hand
October 7, 1971 – October 5, 2020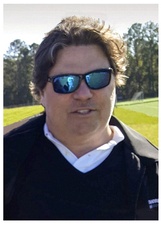 Donald Wayne "Donnie" Hand, 48, of Cairo, GA, passed away at his home on Monday, October 5, 2020 of natural causes.  The family will have a memorial service at a later time.
Mr. Hand was born on October 7, 1971, in Austell, GA, to the late Walter Frank Hand, Sr. and Jo Ann Cochran Hand. He was a business accountant and owner/operator of Silver Streak Transport. He was of the Baptist faith.
Donnie loved his mom and family, and looked up to his older brother Charlie. He especially doted on his nephew, Jackson, and nieces, Ashley and Casey. He was proud of each of their accomplishments and always expected the best out of each one. He had a special way of encouraging them to reach their goals and loved them as if they were his own.
Donnie attended Southside Elementary, Washington Middle and Cairo High School, where he was a proud member of the Class of­ 1989. Throughout these years, his passion and ability on the football field remained strong. He valued each one of his teammates and could recall their triumphs quite easily; whether it be pee-wee league games, the 9-10 year old All-Star team that won the Turkey Bowl, or his years as a defensive end for the Cairo Syrupmakers.  Donnie earned 2 bachelor's degrees from Valdosta State University, where he was a member of the Kappa Alpha Fraternity, and his Master's in Business at Georgia State University.
He loved his friends unconditionally and without question. His loyalty to each of them was known and appreciated by all. He was very selfless when it came to gathering the group and any adventures or trips he thought they should take.
One of Donnie's passions was listening to and playing music that stirred his soul. He could play the piano by ear and also taught himself to play the guitar. He loved sharing an old rock song with friends and could always belt out the loudest notes. This talent will be greatly missed.
Survivors include: his brother and sister-in-law, Charlie and Jennifer Hand of Cairo, GA; nephew, Jackson Hand of Cairo, GA; nieces, Ashley Hand, Casey Hand, both of Cairo, GA; and a host of extended family and close friends. Some of those friends include but certainly aren't limited to Ward Johnson, Scott Higginbotham, Chuck Williams, Parrish David, Drew David, Wood Montgomery Jr., Trent Ellis & Stan Ellis. He was preceded in death by his parents.
In lieu of flowers, the Donnie Hand Football Scholarship has been established at Cairo High School. Checks should be made out to CHS Donnie Hand Football Scholarship and mailed to the attention of Evelyn Maxwell at Cairo High School, 455 5th Street SE, Cairo, GA 39828.
For those who desire, condolences may be offered to the family by
clicking here
.