Donald Roger Cumbie
January 21, 1948 – August 29, 2022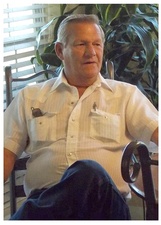 Funeral services for Donald Roger Cumbie, 74, of Whigham, GA, are at 10:00 a.m., Thursday, September 1, 2022, at the Chapel of Clark Funeral Home, Cairo, GA.  Interment will be in Greenwood Cemetery, Cairo, GA.  Mr. Cumbie passed away at his home on Monday, August 29, 2022.
Active pallbearers will be his grandsons.
Mr. Cumbie was born on January 21, 1948, in Cairo, GA, to the late Mason Cumbie and Effie Dozier Cumbie.  He was married to Mabel Wade Cumbie, who preceded him in death on April 5, 2020.  Before retirement he worked as a fireman with the City of Cairo for over 14 years and later as a truck driver.  He was of the Baptist faith.
Survivors include: his daughters, Kathy Brown of Cairo, GA, Kim Whitley (Dean) of Cairo, GA, Kristie Hanks (Chuck) of Cairo, GA, Shannon Daniels (Richard) of Santa Rosa Beach, FL; son, Riley Cumbie (Kailee) of Thomasville, GA; grandchildren, Tommy Whitley, Brooke Morgan (Brandon), Courtney Roberts (Marcus), Kerstin Desuyo (Jake), Ben Harrison (Amber), Caleb Harrison, Kaidence Cumbie, Austin Hanks, Aubree Hanks; great-grandchildren, Rylan Harrison, Reese Harrison, Colton Harrison, Kayden Thompson, Liam Morgan, Callum Desuyo, Cooper Roberts; sister, Linda Pearce (Jerry) of Cairo, GA; and a host of nieces, nephews and extended family.
He was preceded in death by: his parents; his wife, Mable; and brothers, Ralph Cumbie, Tommy Cumbie.
Click the link below to view a video keepsake.
https://www.tributeslides.com/tributes/show/MTDHGPL5YSG2GSPP
For those who desire, condolences may be offered to the family by
clicking here
.