Claradene Kearns
March 31, 1922 – May 1, 2020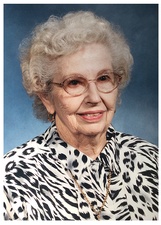 Claradene Kearns, 98, passed away at home in Cairo, GA on Friday May 1, 2020. She will be laid to rest in Hallsville Cemetery, beside her beloved "Benny," in her birthplace of Chillicothe, Ohio. Ware Funeral Home will be in charge of arrangements in Ohio.
Born March 31, 1922 to Blanche Shoemaker Rice and David Luther Rice. She met Benjamin Franklin Kearns while selling popcorn in the city park. They fell in love and married on 12/7/1941, the day Pearl Harbor was bombed. She embraced work as a loving mother and homemaker and together they raised two daughters. They were happily married for forty years until Benny's unexpected death in 1981. Alone at age 61, she learned to drive and got a job at Sears. After relocating to Cairo, GA, she served as a teacher's assistant at Washington Middle and Southside Elementary School. She also found joy in caring for the neglected animals in her community, adopting cats and dogs from shelters over the years.
Survivors include: children, Sharon Lonkani (Jairam) of Tallahassee, FL and Sandra Ritenour of Chillicother, OH; grandchildren Krishna (Beverly) and Melanie Lonkani, Tallahassee, FL, Dave Lonkani, (Suny) of San Francisco, CA, Holly Hooks (Mark) Laura Hollis (Don) and Mark Ritenour (Angela) of Chillicothe, OH; great grandchildren, Bela Afman of Tallahassee, FL, Otto and Ahgo Lonkani, San Franciso, CA, Jessica Braswell (Josh) of Crawfordville, FL, Nicholas Hooks (Maryellen), Shawn Lowe, Sierra Jordan (Dylan), all of Chillicothe, OH; great-great grandchildren, Sebastian, Gregg and Christopher Crowe, Crawfordville, FL; Benjamin, Isaiah, Christian and Lyla Hooks and Alexander Ritenour of Chillicothe, OH; and a host of nieces, nephews, extended family and dear friends. She also leaves behind Lulu the dog, her companion for more than a decade.
She was preceded in death by her parents, son-in-law, Albert Ritenour; great grandson, Christopher Fellenstein; brothers, George W. Rice (Dorothy), Phillip Rice (June) and David Rice and her sister, Eleanor Louise Campbell (Wilbur).

For those who desire, condolences may be offered to the family by
clicking here
.