Charles Seaborn Roddenbery
September 22, 1948 – November 10, 2019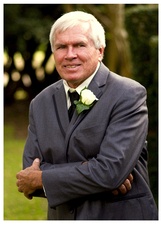 Funeral services for Charles Seaborn Roddenbery, 71, of Cairo, GA, are at 2:00 p.m., Thursday, November 14, 2019, at the First United Methodist Church, Cairo, GA. Rev. Ron McCaskill and Rev. Christy Bandy will officiate. Interment will be in Cairo Cemetery, Cairo, GA. Mr. Roddenbery passed away at Pacifica Senior Living Woodmont in Tallahassee, FL, on Sunday, November 10, 2019.
Active pallbearers will be Bryan Roddenbery, Bryan Martinelli, Sr, Bryan Martinelli, II, Wood Montgomery, Lewis Oliver and Tommy Lipscomb.
Mr. Roddenbery was born on September 22, 1948, in Cairo, GA, to the late Walter Blair Roddenbery, Jr. and Virginia Anne Middlebrooks Roddenbery. He graduated from Cairo High School and the University of Georgia. Seaborn was well known for his green thumb and his love for growing plants and gardening. He was the owner and operator of Grady Greenhouses and worked in several business operations throughout his years. Seaborn was active for many years with Crossroads Church. He was a member of the Cairo First United Methodist Church and attended Christ Church. He often volunteered as needed with Hurricane Katrina recovery with the FUMC.
Survivors include: son, Bryan Patrick Roddenbery of Tallahassee, FL; daughters, Holly Anne Roddenbery of Detroit, MI, Kristin Roddenbery Martinelli (Bryan) of Cairo, GA; grandchildren, Elliana Martinelli, Bryan W. Martinelli, III, both of Cairo, GA; life companion, Brenda Hopkins Roddenbery of Cairo, GA; and a host of extended family.
He was preceded in death by: his parents; and brothers, Walter Blair Roddenbery, III, Brandon Lovejoy Roddenbery, Paul Brooks Roddenbery.
Memorials may be made in Mr. Roddenbery's memory to the Roddenbery Memorial Library, 320 North Broad Street, Cairo, GA 39828.
The family will receive friends at the Cairo First United Methodist Church on Thursday, November 14, 2019, from 1:00 p.m. until 2:00 p.m.

For those who desire, condolences may be offered to the family by
clicking here
.