Billy Mobley
October 11, 1951 – September 20, 2019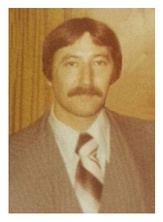 Billy Mobley, 67, of Cairo, GA, passed away at his home on Friday, September 20, 2019. The family will have a private family memorial service at a later date.
Mr. Mobley was born on October 11, 1951, in Cairo, GA, to the late Preston Mobley and Elizabeth Butler Mobley. He served his country in the United States Army in Kaiserslautern, Germany, known as KTown N in Arizona. On November 13, 1970, he married Denise Hornsby Mobley, who survives. They were married for 50 years. Billy worked for the General Services Administration of the United States for 30 years. In his earlier years, he enjoyed riding motorcycles. He was proud of his palm garden, banana trees and his canine Chinese Crested dog, Cha-Lee. He was a fixer and a builder, having built his own house and satellite dish. He had his own website video on "Gone Fishing and Grilling Smoked Catfish." Billy was of the Baptist faith.
Survivors include: his wife, Denise Hornsby Mobley of Cairo, GA; son, Shawn Mobley (Angie) of Cairo, GA; daughter, Kristie Mobley of Cairo, GA; grandchildren, Kaleb Mobley of Cairo, GA, Katie Wilson of Cairo, GA; brother, Sonny "Preston" Mobley of Cairo, GA; nephews, Kevin Mobley of Cairo, GA, Kyle Mobley of Connecticut, John Mobley of Florida. Longtime friends include Durie and Donna Cooper, Dennis Clark, and several aunts and uncles, and the extended Hornsby family.
He was preceded in death by: his parents; brother, Roy Mobley; cousin, Jerry Mobley; and a brother-in-law, Billy Hornsby.

For those who desire, condolences may be offered to the family by
clicking here
.