Betty Harrison Waggoner
July 31, 1928 – June 25, 2020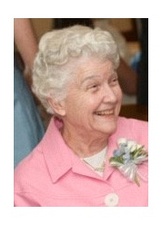 Mrs. Betty Harrison Waggoner, 91, of Thomaston, GA, died Thursday, June 25, 2020 at Upson Regional Medical Center.
Funeral services for Mrs. Waggoner will be held on Monday, June 29, 2020 at 10:00 AM at the First Presbyterian Church in Thomaston with Dr. Glenn Gilstrap officiating. Burial will take place in the Harrison Family Cemetery in Cairo, GA., on Tuesday, June 30th, 2020 at 11:30 AM. The family of Mrs. Waggoner will receive friends at Fletcher-Day Funeral Home on Sunday, June 28, 2020 from 4:00 until 6:00 PM. Friends are asked to observe social distancing guidelines.
Mrs. Waggoner was born in Thomasville on July 31, 1928, a daughter of the late William Robert and Annie Brown Harrison. She and her husband, the late Richard Alfred Waggoner, Sr., moved to Thomaston from Decatur in 1966 and purchased the Western Auto Store. Together they operated the business until their retirement in 1995.
Mrs. Waggoner was a faithful member of the First Presbyterian Church. Her church was her second family and she was an ordained Elder, a member of the chancel choir, the Congregational Life Committee, the Birdsong/Jenkins Circle and Presbyterian Women. In 1992 she was the recipient of the Presbyterian Women Life Membership Award.
Mrs. Waggoner is survived by her daughter, Anne (Peter) Beets of New Zealand; two sons, Richard Alfred (Jeanne) Waggoner, Jr., of Port St. Joe, FL, and James Patterson (Bonnie Sanborn) Waggoner of Newnan; five grandchildren, Erica Carman, Lillian Meadows, Koen Beets, Amanda Rutan and Eliza Jarvis; and eight great grandchildren.
In lieu of flowers memorial contributions may be made to the Girardeau Fund, First Presbyterian Church, 403 Birdsong Street, Thomaston, GA 30286.
Fletcher-Day Funeral Home, 628 N. Church St., Thomaston, GA, is in charge of arrangements. Phone 706-647-6644
Condolences and remembrances may be expressed at www.fletcherdayfuneralhome.com

For those who desire, condolences may be offered to the family by
clicking here
.