Wendell Edward Walker
December 31, 1947 – February 28, 2021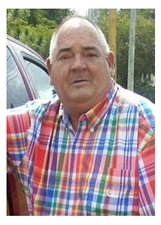 Wendell Edward Walker, 73, of Cairo, GA, passed away at Phoebe North Campus, Albany, GA, on Sunday, February 28, 2021.  The family will have memorial service at a later time.
Mr. Walker was born on December 31, 1947, in Cairo, GA, to the late Alfred Hugh Walker and Evelyn Mobley Walker.  He worked most of his life with funeral grave digging and vault installations.  He was of the Baptist faith.  Wendell loved fishing, his family, God and most of all his "his love, Joann."
Survivors include: his wife, Joan Walker of Cairo, GA; grandson, Ricky Castillo of Cairo, GA; sisters, Helen Walker Brazel (Wayne) of Albany, GA; brothers, A. J. Walker of Florida, Gwen Walker (Connie) of Arkansas; a host of nieces and nephews and extended family; and his two fur babies, Teddy Bear and his heart "Lady Bug."
He was preceded in death by: his parents; daughter, Judy Castillo; and an uncle, Marvin Walker.
For those who desire, condolences may be offered to the family by
clicking here
.