Evelyn Miller Walden
September 17, 1931 – February 28, 2023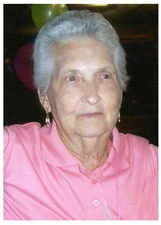 Funeral services for Evelyn Miller Walden, 91, of Cairo, GA, are at 3:00 p.m., Saturday, March 4, 2023, at Whigham Baptist Church, Whigham, GA.  Rev. Kerry Dinkins will officiate.  Interment will be in the Hawthorne Cemetery, Cairo, GA.  Mrs. Walden passed away at her home on Tuesday, February 28, 2023.
Pallbearers will be Tim Bracewell, Shawn Miller, Curt Vanlandingham, Greg Vanlandingham, Tim Lindsey, and Harrell King.
Evelyn Miller Walden was born in the Ochlocknee, GA on September 17, 1931, the daughter of Bessie and Ross Miller. She was a 1948 graduate of Cairo High School.  On July 30, 1949, she married Johnny F. Walden, who preceded her in death in 1994. To their marriage three children were born: Frankie Jean Walden, Danny Laverne Walden, and Anita Jane Walden.
She worked for many years at Warners in Thomasville before, in 1970, she and her husband purchased a small grocery store in Whigham.  In 1974 they built a new larger store and Walden's IGA relocated directly across Highway 84 in Whigham. They continued to operate this store until their retirement in 1983.  After retirement she and her husband traveled the United States extensively in a conversion van.  Later working in her yard and enjoying her many flowers was one passion.  But her greatest passion in life was always her family.  She was a devoted member of the Whigham Baptist Church.
She is survived by: daughters and sons-in-law, Frankie and Danny Griner, Anita and Wallace Chason; grandchildren, Allison Singletary (Lee), Donna Griner, Clay Chason (Jennifer), Brad Chason (Kristin), Laura Brown (Dusty); great-grandchildren, Matt Gibson, Cayden Singletary, Eve Griner, Evan Stewart, Landan Colvin, Cameron Miller, Morgan Miller, Olivia Chason, Alex Chason, Halle Chason, Brody Chason, Brantley Linn, Nolan Brown, Addie Brown; great-great-grandchildren, Joey, Brandon, and Auriella.  She is also survived by daughter-in-law, Bethany Walden and a host of dear nieces and nephews.
She was preceded in death by her parents, her husband, her son, Danny L. Walden; and her brother, Edward Miller.
In lieu of flowers donations may be made to the Whigham Baptist Church, P. O. Box 83,Whigham, GA 39897; or Hawthorne Cemetery, c/o Demetrius Harrison, 64 24th St. NE, Cairo, GA 39828.
For those who desire, condolences may be offered to the family by
clicking here
.