Ted Gainous
November 5, 1933 – July 22, 2015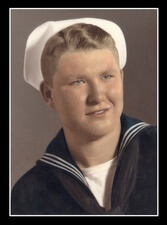 Memorial services for Ted Gainous, 81, of Cairo, GA, are at 11:00 a.m., Saturday, July 25, 2015, at Cairo Church of God, Cairo, GA. Rev. Robert Knight and Rev. DeWayne Atkinson will officiate. Services will conclude at the church. Mr. Gainous passed away at his home in Cairo, GA, on Wednesday, July 22, 2015.
Mr. Gainous was born on November 5, 1933, in Cairo, GA, to the late Cecil Gainous and Ruth Logue Gainous. He served his country in the United States Navy during the Korean Conflict. He was married to Virginia Logue Gainous, who preceded him in death on January 16, 2006. He was an electrical superintendent with Tropicana Products, Inc. He attended Cairo Church of God.
Survivors include: his children, Susan Fowler of Thomasville, GA, Michael Mayer (Teri) of Bradenton, FL, Neil Mayer (Mary) of Whigham, GA, Teddy Jacobs of Bradenton, FL, and Gina Owens of Bradenton, FL; sister, Judy Barrett (Howard) of Cairo, GA; and a host of grandchildren, great-grandchildren, nieces, nephews, and great-nieces and nephews.
He was preceded in death by: his parents; wife; brother, Jimmy Gainous.
Memorials may be made in Mr. Gainous' memory to: Archbold Foundation, Attention Vann Middleton, designate Hospice of Southwest Georgia, 910 S. Broad St., Thomasville, GA 31792; or Cairo Church of God, 301 Livestock Pavilion Rd., Cairo, GA 39828
Please enter your information and condolence message. The condolence you submit is private and will only be used to forward to the family.
For those who desire, condolences may be offered to the family by
clicking here
.