Peter W. Boring
May 27, 1943 – March 6, 2018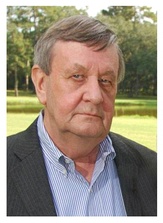 Funeral services for Peter W. Boring, 74, of Cairo, GA, are at 11:00 a.m., March 8, 2018, at Faith Christian Center, Cairo, GA. Rev. Bill Staten will officiate. Military honors will be presented at the church. Services will conclude at the church. Interment will be in Forest Lawn Cemetery, Cairo, GA. Mr. Boring passed away at his home, in Cairo, GA, on Tuesday, March 6, 2018.
Mr. Boring was born on May 27, 1943, in Kempten, Germany, to the late Roy Eugene Boring and Annie Marie Munz Boring. He served his country in the United States Air Force. He made over 400 jumps as a paratrooper was known for the HALO jump technique. On December 18, 1964, he married Bettie Boshers Boring, who survives. He was the owner and operator of Cairo Jewelers in Cairo for 46 years. He was of the Catholic faith. His pride and joy were his grandchildren and great-grandchildren.
Survivors include: his wife of 53 years, Bettie Boring of Cairo, GA; children, Cheri Campbell (Brett) of Cairo, GA, Peter Boring, Jr. (Lauren) of Gulfport, MS, Paige Moore (Dusty) of Whigham, GA; grandchildren, Brittney Heard (Jace) of Cairo, GA, Erin Jones (Bradley) of Cairo, GA, Kamen Moore, Colin Moore, both of Whigham, GA, Kincade Boring of Gulfport, MS; great-grandchildren, Campbell Jones and soon sister, Ella Caroline Jones of Cairo, GA, Wyatt Heard, Easton Heard of Cairo, GA; brother, Roy Boring, Jr.; and sisters, Karin B. Stanford, Patricia B. Greene of Tallahassee, FL. He was preceded in death by his parents.
Memorials may be made in Mr. Boring's memory to: Cairo American Legion Post #122, P. O. Box 1234, Cairo, GA 39828.
The family will receive friends at Faith Christian Center immediately following the funeral service.