Parsottambhai Maganlal Patel
June 3, 1935 – December 19, 2018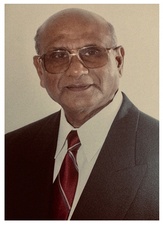 Funeral services for Mr. Patel will be on Saturday, December 22, 2018, 2:00 p.m. at Clark Funeral Home Chapel of Cairo, GA. A private family service will immediately follow at Sunset Memorial Crematorium in Thomasville GA. Mr. Patel passed away at 9:30 p.m. on Thursday, December 19, 2018.
Parsottambhai Maganlal Patel was born in Kuched, Gujrat, India, the son of Maganlal Patel and Dahiben Patel. He is survived by our mother, Laxmiben Patel and his five sons with their families including his grandchildren and his beloved great-granddaughters, Saina and Miraya. Soon after marrying our mother, they immigrated to Nyasaland (Malawi) where their sons Mahendra, Ramesh and Kishor were born. Later our family moved to Luanshya, Zambia, where their sons Kirit and Jaiprakash were born. Our father operated Kala Fashions and was nicknamed Kala. Later he moved to Kitwe, Zambia before finally settling in the United States. He was a devoted father and will never be forgotten by his loving family. May he Rest In Peace Forever.
Mahendra/Urmila and Mitesh Patel (941) 545-4795
–Bhavin/Monica Patel and Miraya Patel
Ramesh/Ansuya and Vimal Patel (229) 977-6880
–Prashant/Nilam and Saina Patel
Kishor/Naina and Hemali Patel (239) 322-4371
–Samir/Roshni Patel
Kirit/Sheila and Shreya and Kevan Patel (941) 725-2525
[email protected]
Jaiprakash/Varsha and Jaysha Patel (941) 720-9000