Kenneth Ligouri
August 3, 1956 – February 2, 2019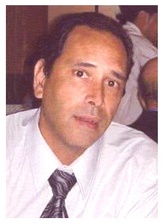 Graveside funeral services for Kenneth Ligouri, 62, of Cairo, GA, are at 3:00 p.m., Friday, February 8, 2019, in Mizpah Primitive Baptist Church Cemetery, Pelham, GA. Rev. Ricky Pollock will officiate. Mr. Ligouri passed away at Grady General Hospital in Cairo, GA, on Saturday, February 2, 2019.
Mr. Ligouri was born on August 3, 1956, in Brooklyn, NY, to the late Pete Ligouri and Sylvia Castro. He served his country in the United States Navy. On May 7, 2005, he married Michelle Williams Ligouri, who survives. Kenneth retired from the City of New York, NY Fire Department EMS. He was a fanatic watch and comic book collector.
Survivors include: his wife, Michelle Williams Ligouri of Cairo, GA; son, Steven Ligouri of Cairo, GA; daughter, Samantha Ligouri of Raleigh, NC; step-son, Jonathan Fallin of Kennesaw, GA; sister, Lorene Ligouri of Puerto Rico; and a host of nieces and nephews.
He was preceded in death by his parents.
The family will receive friends at Clark Funeral Home on Thursday, February 7, 2019, from 6:00 p.m. until 8:00 p.m.