Dorothy Latrelle Gilliard
October 10, 1930 – February 8, 2018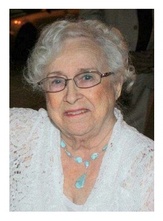 Services for Latrelle Roland Gilliard, 87, of Cairo, GA, are at 11:00 a.m., Monday, February 12, 2018, Long Branch Baptist Church, Cairo, GA, with Rev. Jeff Ezell officiating. Interment will follow in Union Hill Primitive Baptist Church Cemetery, Grady County. Mrs. Gilliard passed away on Thursday, February 8, 2018, at Tallahassee Memorial Hospital, Tallahassee, FL.
Active pallbearers will be Wallace Hancock, Kermit Gilliard, Jamie Trotman, John Tillis, W. A. Harrell and Ronnie Gilliard.
Mrs. Gilliard was born in Chipley, FL, on October 10, 1930, to the late Willie Lonzie Roland and Viven Oreva Hancock Roland. On December 18, 1947, she married Alford C. "A. C." Gilliard, who preceded her in death. She was a secretary with Warners of Thomasville, GA, and was an active member of Long Branch Baptist Church.
She is survived by: son, Allen Gregory Gilliard of Cairo, GA; grandson and spouse, Michael and Sandy Gilliard of Cumming, GA; great-grandchildren, Whittney Gilliard Massey (Jordon) of Bainbridge, GA, Dillan Gilliard (Taylor) of Cairo, GA; and a host of nieces and nephews.
Mrs. Gilliard was preceded in death by: her parents; her husband; daughter-in-law, Judy Gilliard; grandson, Jeffrey Gilliard; brother, Lonzie Roland.
The family will receive friends at Clark Funeral Home on Sunday, February 11, 2018, from 4:00 – 6:00 p.m.