Dewey Lee Harrell
January 20, 1937 – January 10, 2017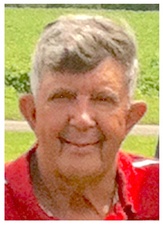 Funeral services for Dewey Lee Harrell, 79, of Whigham, GA, are at 3:00 p.m., Friday, January 13, 2017, at Mt. Vernon Baptist Church, Whigham, GA. Rev. Tim Harrell will officiate. Interment will be in Mizpah Primitive Baptist Church Cemetery, Pelham, GA. Mr. Harrell passed away at Archbold Memorial Hospital in Thomasville, GA, on Tuesday, January 10, 2017.
Active pallbearers will be Michael Haire, Tyler Beaty, Donnie Foister, Cedric Shiver, Greg Arline and Donnie Vaughn. Honorary pallbearers will be Roger Singletary, Mac Hall, Marrion Crosson, J. R. Taylor, Chris Beaty, Jerry Adams and Trey Godwin.
Mr. Harrell was born on January 20, 1937, in Whigham, GA, to the late G. D. Harrell and Edna Martin Harrell. He retired from the Maintenance Department of the Grady Country Board of Education and Darwood Manufacturing Company. Dewey was former president of the Mt. Vernon Brotherhood and was an active lifetime member of Mt. Vernon Baptist Church. He loved to fish, mow grass and watch Nascar racing cheering on Jeff Gordon. He loved spending time with his children, but his favorite role was that of Papa. He went to countless, pageants, ballgames and gymnastic/cheer competitions, where he was their biggest cheerleader.
Survivors include: his children, Jennifer, Leann and Jason, all of Whigham, GA; grandchildren, Michael, Tyler, Brianna, Leann, Mattie, Katherine, Kaylee, all of Whigham GA; great-grandchild, Adelin of Colquitt, GA; and a brother, Steve Harrell (Martha) of Bainbridge, GA; sister-in-law, Mary Frances Harrell of Whigham, GA; mother of his children, Mary Ann Yeomans of Whigham, GA; nieces and nephew, Lavonda Ingram of Bainbridge, GA, Amy Meggs of Leesburg, GA, Glenn Harrell of Whigham, GA; and a host of great-nieces and great-nephews.
He was preceded in death by: his parents; grandson, Cole Haire; brother, Howard Harrell; and a niece, Brenda Hurst.
Memorials may be made in Mr. Harrell's memory to: Mt. Vernon Baptist Church, 5079 Old 179 North, Whigham, GA 39897.
The family will receive friends at Clark Funeral Home on Thursday, January 12, 2017, from 6:00 p.m. until 8:00 p.m.