Wyman Haskell Richter, Jr.
July 5, 1939 – October 8, 2020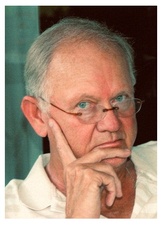 Wyman Haskell Richter, Jr., 81 died at his residence on October 8, 2020.  He was born on July 5, 1939 at the "old home place" on Broad Street in Cairo, Georgia to Wyman H. Richter, Sr. and Louisa Ledford Richter.  He was an honor graduate of Cairo High School's class of 1957, the first class to graduate in the new high school, and he loved playing saxophone in "Major" Verran's band.  After joining the United States Air Force and fulfilling his military obligation, Wyman moved to Atlanta, Georgia where he worked during the day and attended Georgia State University at night.  He was a member of Pi Kappa Alpha social fraternity, Beta Alpha Psi professional fraternity, and Blue Key Honor Society.
As a young intern in the accounting department at United Airlines in Atlanta, he met the love of his life, Virginia Anne Jernigan, who worked in reservations.  After only six months of dating, they married at First Baptist Church of Atlanta in 1962.  They later became the proud parents of four children:  Harriet Anne, Meridith Anne, Wyman Haskell III, and Leigh Ledford.
After his graduation in 1963, Wyman began working for the Davis and Freeman accounting firm in Cairo.  As he honed his talents in accounting and expanded his business relationships, Wyman developed a client base that stretched from Naples, Florida to Ithaca, New York and participated in transactions that took him all around the world.  Due to his command of tax law, one of his New York clients even referred to him as "the best kept secret in south Georgia."   He was a Certified Public Accountant for 40 years and the founder of the firm, Richter & Company.  He was a member of the American Institute of CPA's, the Georgia Society of CPA's, the Florida Institute of CPA's, and the Tallahassee Regional Estate Planning Council.  He was also a Certified Financial Planner and Registered Investment Advisor.  In addition to his accounting practice, he was a founder and director of United National Bank, which was built on the property where his childhood home once stood.
With a deep love for Cairo and its people, he served various organizations in his community throughout his life.  Some of these include Cairo-Grady Chamber of Commerce-director and president, Cairo Country Club-member and director, Roddenbery Memorial Library-trustee, Brookwood School-director and chairman of the board, Rotary Club-member, and the Davis Memorial Fund-trustee.  He was generous with his time and enjoyed acting as mentor and trusted advisor for those who sought his counsel.
As the great-grandson of a minister who was one of the founders of the First Baptist Church of Cairo, Wyman grew up in the Baptist faith and served the church as a Sunday school teacher, trustee, deacon, and chairman of the finance committee.  Later, he became a member of Cairo First United Methodist Church where he also served as chairman of the finance committee.  His life was a testament to his faith.
Wyman enjoyed hunting, fishing, golf, music, reading, exercising, college football, annual class reunions, afternoons at the coffee shop, spending time in Crystal River, and anything he could do with his four grandchildren.  More than anything, he enjoyed his family and friends.  He will be greatly missed.
He is survived by his wife of 58 years, Anne Jernigan Richter; daughters, Meridith Richter Redrupp (Jan Erik), Leigh Richter Bickford; grandchildren, Kate Ashton Redrupp, Emery Haskell Redrupp, Julian Mercer Redrupp, and Peyton Daniel Bickford; nephews, John Elder Robison and Augusten Burroughs; several cousins; and close family friends, Tommy and Sandra Bryan.
Wyman was preceded in death by his parents, Wyman Haskell Richter, Sr. and Louisa Ledford Richter; his children, Harriet Anne Richter and Wyman Haskell Richter III; his brother, Mercer Ledford Richter; and sisters, Harriet Richter and Margaret Richter Robison.
A private graveside service will be held at Greenwood Cemetery, Cairo, Georgia with Reverend Christy Bandy, Reverend Delise Cox, and Reverend Ike Powell officiating.  Private interment will follow in Greenwood Cemetery.
Active pallbearers will be Kevin Chason, Mike Chastain, Patrick Ouzts, Dick Porter, Ronald Sellers, Hill Smith, and Chuck Stafford.  Honorary pallbearers will be Bill Bass, Fred Beshears, Charles Davis, Bill Elkins, Wayne Fincher, R.B. Gainous, Sammy George, George Hackney, Todd Harrell, Larry Higdon, Bobby Jefferson, Gene Johnson, Roy Jones, William Jones, Marion Lamb, John Lastinger, Charles Manny, Daniel Marshall, Matt McCaskill, Howell McKinnon, Doug Simmons, Seth Stanaland, David Wilder, Billy Wind, and the CHS Class of 1957.
Memorials may be made in Wyman's name to:  Cairo First United Methodist Church, 318 South Broad Street, Cairo, GA 39828; Roddenbery Memorial Library, 320 North Broad Street, Cairo, Georgia 39828; or Brookwood School, 301 Cardinal Ridge Road, Thomasville, GA 31792.
For those who desire, condolences may be offered to the family by
clicking here
.